I've watched a lot of science fiction movies and TV shows -- and, in pretty much all of them, you see astronauts eating pre-prepared meals, like the ones below, from 2001: A Space Odyssey. (Notice the prescient 2001 iPads!) Now, though, it's looking like that might have been an inaccurate vision of the future: As Paul Adams explains in a great article at PopSci, NASA is spending serious money teaching astronauts to cook for themselves. Even Stanley Kubrick couldn't have imagined the new reality: astronauts as space-foodies.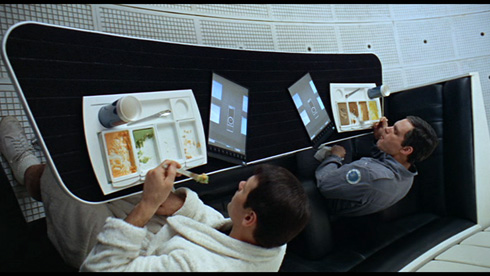 Adams travels to Cornell, where he meets with a group of nine NASA trainees who are "learning how to cook on Mars" -- on that particular day, they're making pizza, from scratch, using ingredients which are freeze-dried, dehydrated, powdered, and, in general, "shelf-stable":
The study will culminate next year in a rigorous mission during which the astronauts -- six final participants chosen from the nine here today -- will spend 120 days isolated in a Martian habitat high on Mauna Loa, a volcanic mountain in Hawaii, with no vegetation in site, cooking and eating exclusively dehydrated and shelf-stable foods using skills and recipes they're developing together this week. The kitchen here at Cornell is crammed with space-ready ingredients of all kinds: freeze-dried beef and chicken chunks, freeze-dried shredded cheeses of various kinds, dehydrated fruits and vegetables, powdered spices, seaweeds and agar, and a concentrated butter with all the moisture centrifuged out of it. From these building blocks, the crew will have to creatively feed themselves for four months.
The project makes sense for all sorts of reasons, many of which seem very much of-this-foodie-moment. NASA hopes, for example, to boost morale by giving astronauts the creative outlet of food preparation. It aims to increase group cohesion by pulling everyone into a "focused, pseudo-domestic communal activity" around the space-kitchen counter. And cooking from scratch, mission planners think, might help combat the sensory monotony of space travel. Communally prepared, hand-crafted cuisine in space -- it all sounds "très Brooklyn," as they say in France. All our spaceship needs is a blackboard for displaying the specials, and a dining table made from reclaimed wood.
There are surprising reasons, too, for favoring made-from-scratch food. Tastier meals might help combat a strange, newly discovered effect of living in space: Micro-gravity, it turns out, causes your nasal passages to contract, inhibiting your sense of smell and making everything taste worse. Today, apparently, "crewmembers on the ISS and other missions get in the habit of drenching every meal in hot sauce to compensate." There's much more, including a great slide-show, at Popular Science.
About brainiac
Brainiac is the daily blog of the Globe's Sunday
Ideas section
, covering news and delights from the worlds of art, science, literature, history, design, and more. You can follow us on Twitter
@GlobeIdeas
.
contributors
Leon Neyfakh
is the staff writer for Ideas.
Amanda Katz
is the deputy Ideas editor.
Stephen Heuser
is the Ideas editor.
Kevin Hartnett
is a writer in Ann Arbor, Michigan. His last article for Ideas was about choosing Congress by lottery.
Guest blogger
Simon Waxman
is Managing Editor of
Boston Review
and has written for WBUR, Alternet, McSweeney's, Jacobin, and others.
Guest blogger
Elizabeth Manus
is a writer living in New York City. She has been a book review editor at the Boston Phoenix, and a columnist for The New York Observer and Metro.
Guest blogger
Sarah Laskow
is a freelance writer and editor in New York City. She edits Smithsonian's SmartNews blog and has contributed to Salon, Good, The American Prospect, Bloomberg News, and other publications.
Guest blogger
Joshua Glenn
is a Boston-based writer, publisher, and freelance semiotician. He was the original Brainiac blogger, and is currently editor of the blog HiLobrow, publisher of a series of Radium Age science fiction novels, and co-author/co-editor of several books, including the story collection "Significant Objects" and the kids' field guide to life "Unbored."
Guest blogger
Ruth Graham
is a freelance journalist in New Hampshire, and a frequent Ideas contributor. She is a former features editor for the New York Sun, and has written for publications including Slate and the Wall Street Journal.
Joshua Rothman
is a graduate student and Teaching Fellow in the Harvard English department, and an Instructor in Public Policy at the Harvard Kennedy School of Government. He teaches novels and political writing.
browse this blog
by category
related links