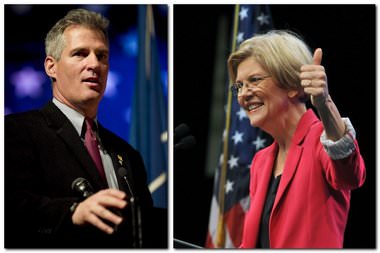 The American Indian attacks on Elizabeth Warren from conservatives and Republicans have finally blown up in Scott Brown's face. Brown could only push the "Warren isn't a real Indian" line so far before it backfired. It is red meat to his supporters and her detractors, especially the national ones, but how many votes has it actually turned?
Polls show voters are aware of the scandal but it has had little impact on their vote. Clearly, the Brown campaign wants to paint Warren as untrustworthy and of questionable character because they win if the race stays that way.
They have hit her hard on her work involving asbestos claims and for coal mining companies and possibly practicing law without a license but the heritage allegations are a different story. They always had to walk a fine line when attacking her and her family on such an unusual circumstance, at least for many Baystaters.
His supporters have called her Lieawatha and Fauxcauhontas, not exactly racially sensitive terms.
This video, featuring some of Brown's Washington staffers like Greg Casey and Jack Richard, is very damaging even without them because it shows his supporters engaging in this behavior. Their appearance just adds fuel to the fire.
Brown released his first real negative ad of the campaign after the first debates attacking after Warren's self-repored heritage. Warren was up shortly with a response ad that is, well, a vast improvement over her earlier ads. It makes her appear sympathetic and likable, something she's struggled with throughout the campaign.
Boston has a sad racial history and this latest episode just adds to the global perception that my hometown is populated with a bunch of whiskey drinking knuckledraggers that hate the New York Yankees.
While Libertarian presidential nominee Gary Johnson was campaigning in New Hampshire he took time to make an ad with some Granite State supporters that features Republican and Democratic zombies.
In the ad Johnson walks down the steps of the New Hampshire State House in his singature blazer and peace sign shirt proclaiming that "We are not a mindless society! We care about things!"
Johnson is the in the midst of a nationwide college tour and told Patch that he thought the ads could go viral.
"This is fun, this is fun," Johnson said at one point during the recording.

At another point during the filming, when Johnson realized that the concept was pretty brilliant and would probably go viral on YouTube, he said, "We're going to have a zombie party … we can't fix all this, we can make the world a better place …"
Johnson's campaign did not pay for or produce the spot. At an event in Durham local LP activists told me that the state party was involved in producing the spot.
DURHAM, N.H. —After the flurry of attacks on American embassies abroad, Republican presidential nominee Mitt Romney took time to attack President Barack Obama for the official government response to the attacks, resulting in a setback to Romney's flailing campaign. Libertarian presidential nominee Gary Johnson responded with a broad critique of American foreign policy and went so far as to say that we should reconsider having embassies in foreign countries.
"I maintain that because of our military interventions we have hundreds of millions of enemies to this country that, but for our military interventions, would not exist," Johnson told a crowd of college students at the University of New Hampshire on Wednesday.
"Let's get out of these embassies now. Let's stop making ourselves a target," Johnson said.
During his speech Johnson, who is at the beginning of a nationwide tour of college campuses, said that politicians use terms like "our vital American interests" as cover for violent military actions that cause more harm than good for the United States.
"Tens of thousands of innocent civilians that die in the countries that we militarily intervene, our men and servicewomen coming back in body bags, our men and servicewomen coming back with their limbs blown off, all in the name of what?" he said.
The recent uprisings in the Middle East have brought foreign policy, ever so briefly, back into the 2012 presidential campaign. To date, 52 people have died in events related to assaults on American consulates and embassies including the American ambassador to Libya, Christopher Stevens.
After his speech Johnson questioned why the United States has embassies at all.
"I questions having embassies in other countries, I really do. Everywhere! I understand American tourists and issues American tourists might have with passports but does that involve an embassy? Does that involve having an ambassador?" he said to Reason during an interview.
Johnson thinks that the embassies are raising the level of animosity some Middle Easterners may have for the United States.
"Let's get out of those embassies now so we don't provide some symbolic target—it's more than symbolic, it's real," he said.
Johnson is scheduled to film some televisions ads with the Libertarian Party of New Hampshire later tonight.
He continues his college tour in North Carolina tomorrow.
NEW YORK?During an appearance at New York University, Libertarian presidential nominee Gary Johnson put a unique spin on the wasted vote and spoiler accusations being thrown at him by Republicans.
?I?m going to argue not that I am the third choice in this election but that I am the only choice in this election. What happens if you all waste your vote on me? I will be the next president of the United States,? he said, drawing an ovation from the crowd.
As Mitt Romney?s campaign has struggled over the last three weeks the spoiler noise from the conservative blogosphere has grown increasingly loud. Republican-led efforts to knock Johnson off the ballot have mostly failed, but he is still in dire straits in Michigan and Oklahoma.
Johnson closed his speech saying, ?I want to tell you, we can make a difference in this election. Waste your vote!?
A Reason review of previous versions of Johnson?s stump speech found he barely referenced the wasted vote or spoiler argument.
Johnson is on the ballot in at least 47 states plus Washington, D.C., and he could be the margin of difference between Romney and President Obama in some swing states.
He doesn?t mind the spoiler talk, however, because he thinks it?s better to be on the ?radar screen? than not at all.
?Mitt Romney can bear total responsibility for his losing, if that?s what transpires. Obama, the same,? Johnson said in an interview.
Johnson thinks the lack of attacks from Democrats is because he is similar to Obama on social issues but has actually backed up his rhetoric, unlike the president.
?They are walking on eggshells. They recognize that any attention I get is going to be the Obama word music with an actual resume that would suggest carry through. I don?t think I could have said it any clearer. Obama, when it comes to the words. Wow! Wow! But the reality is just totally removed from the words,? Johnson said.
While clearing out my photos from the DNC and RNC I came across these two photos of the Massachusetts tri-corner signs from both conventions. Take a look.
In Tampa:

In Charlotte:

CHARLOTTE—Elizabeth Warren may not get a bounce in the polls back in the Commonwealth from her highly anticipated speech at the Democratic National Convention last night but she will probably fill her campaign coffers. Whether it was her nerves or her inability to work the largest crowd she has been presented with since starting her campaign, Warren mostly stumbled in her formal debut to national Democrats in a political setting.
Clad in her customary blue blazer, the Harvard Law professor delivered a speech that was part biographical, part stump speech, and part praise for President Obama. She weaved it together with points aimed as much at the Massachusetts audience that is still warming up to her as at the convention hall and those watching nationwide that love her more.
"For many years now, our middle class has been chipped, squeezed, and hammered. Talk to the construction worker I met from Malden, Massachusetts, who went nine months without finding work. Talk to the head of a manufacturing company in Franklin trying to protect jobs but worried about rising costs. Talk to the student in Worcester who worked hard to finish his college degree, and now he's drowning in debt. Their fight is my fight, and it's Barack Obama's fight too," she said
Like nearly every politician at both major party conventions this year, Warren talked about her childhood and growing up on the "ragged edge of the middle class," a phrase she has used nearly every day since she started campaigning.
"My daddy sold carpeting and ended up as a maintenance man. After he had a heart attack, my mom worked the phones at Sears so we could hang on to our house," she said.
Fast-forwarding to her time building the Consumer Financial Protection Bureau, Warren played up the efforts that made her a darling on the national liberal scene.
"After the financial crisis, President Obama knew that we had to clean up Wall Street. For years, families had been tricked by credit cards, fooled by student loans and cheated on mortgages. I had an idea for a consumer financial protection agency to stop the rip-offs. The big banks sure didn't like it, and they marshaled one of the biggest lobbying forces on earth to destroy the agency before it ever saw the light of day. American families didn't have an army of lobbyists on our side, but what we had was a president…"
"We had you!" yelled somebody in the upper deck, echoing across the arena.
When Warren initially walked across the stage she blew the doors off the building without even speaking but somehow failed to feed off the crowd that so desperately wanted her to inspire them to new heights. Warren slogged through her speech and limped flatly to what should have been a dramatic finish.
"Joe Biden is ready! Barack Obama is ready! I'm ready! You're ready! America's ready! Thank you! And God bless America!"
Warren's speech was an Us vs. Them argument even though her opponent, Sen. Scott Brown, is doing a better job of making it a non-partisan one-on-one contest. Indeed, Warren never mentioned Brown in her DNC speech. As a Republican, Brown has huge institutional disadvantages in Massachusetts that range from registration disparity to the stunning incompetency of the state party to organize at the hyperlocal level.
Rocketing to stardom after launching her campaign but struggling since, Warren has somehow managed to fail to meet expectations in a state that is overwhelmingly Democratic. Her enduring a scandal about her reported American Indian heritage and often being outmaneuvered by the Brown campaign has not helped her either.
Brown avoided the spotlight at his party's convention last week in Tampa, sticking to his campaign's game plan of avoiding even the word "Republican" at all costs.
Warren's stumbles probably didn't matter as much as they could have because former President Bill Clinton took the podium shortly after her and proceeded to deliver a stemwinder that may have even overshadowed the sitting president.
CHARLOTTE - Massachusetts congressional candidate Joe Kennedy III is scheduled to introduce a video tribute to the late Senator Ted Kennedy on Tuesday night at the DNC, his campaign said in email earlier today.
Kennedy will deliver the tribute around 7:30pm before returning to Boston, according to campaign communications director Emily Browne.
Browne said that things are still "in flux" and it is unknown at this time if he will have a press availability.
CHARLOTTE - Massachusetts has a huge role in the Democratic National Convention this week in hot and Charlotte. Senator John Kerry, Governor Deval Patrick, Mayor Thomas Menino, Congressman Barney Frank, and candidate Elizabeth Warren all slated to speak at some point to the week but each of them has a different thing they need to accomplish.
Governor Deval Patrick
Patrick's Massachusetts political career will end when he finish his second term but in the meantime he has been busy building the foundation for a national career.
Speculation about a future presidential run as well as an appointment to a cabinet position or the Supreme Court has swirled around Patrick since he announced this would be his last term. Patrick has to simply live up the hype that he is a great public speaker but he has to do it in an un-Christie like way. If Patrick pulls a Chris Christie and focuses mostly on himself his speech will probably fall flat. Look for Patrick to talk about RomneyCare while criticizing Mitt Romney's time as Massachusetts governor.
Elizabeth Warren

Nobody in the Massachusetts delegation has more to lose or gain with her speech than Warren. If Warren goes too far to left or stumbles it will circulating in Massachusetts for days, possibly weeks. If she does well she benefits from a couple days of positive coverage. Warren doesn't have to bolster her wonky credentials as those are already pretty well established. Look for a personality driven speech that defends the liberal policies of the Obama administration, too.
Mayor Thomas Menino
Mayor Menino has the least to lose from his speech because he has no amibition for higher office. Menino will look to trumpet the policies of Obama and, possibly, bash Romney.
Congressman Barney Frank,
Three words: Should be fun.
Senator John Kerry

Eight years after accepting his party's nomination for president Kerry returns to the stage in Charlotte to, most likely, attack Romney's stewardship of Massachusetts. Like Patrick, Kerry is rumored to be jockeying for a cabinet position, most likely the Secretary of State. Look for Kerry to talk up Romney's shortcomings as governor but needle him for his weak foreign policy credentials, too.

About the author
Garrett Quinn began writing for newspapers at age 17 with CNC in his native South Shore. He has been published in BlueMassGroup, RedMassGroup, Pioneer Investigates, and Wonkette. He is a
More »
Recent blog posts
Browse this blog
by category