Hi, Angel Vets,
Haven't seen you around lately, but we look forward to when you can visit and appreciate your advice and knowledge.
Cruciate ligament tears seem much more common than I thought. Neighbors of my parents just went through their second TPLO surgery with their Cocker Spaniel, and it reminded me of the danger we were warned of for our Lab.
I have an American Lab, the taller breed as compared to the English Lab. She's 3 and as exuberant and fearless as any other. Last year, she had TPLO surgery, and our surgeon said that 50% of dogs who tear one tear the other and told us to keep her on the thin side.
We walk 90 minutes a day, 1/2 leashed, 1/2 unleashed in the woods. We also play fetch daily in the yard. She jumps off 4 ft rock walls daily (who needs stairs when you're Superdog?).
We don't want to restrict her activity. We got her the surgery SO she could keep running and playing indefinitely. But, is there anything we can be giving her, exercises we can do, or anything we can do at all to lessen the chances of her tearing the other rear cruciate ligament? I cannot bear the thought of going through TPLO surgery with her, again.
Here she is long since healed and ready to play (she doesn't always stand that way with her back legs uneven). Should she be thinner?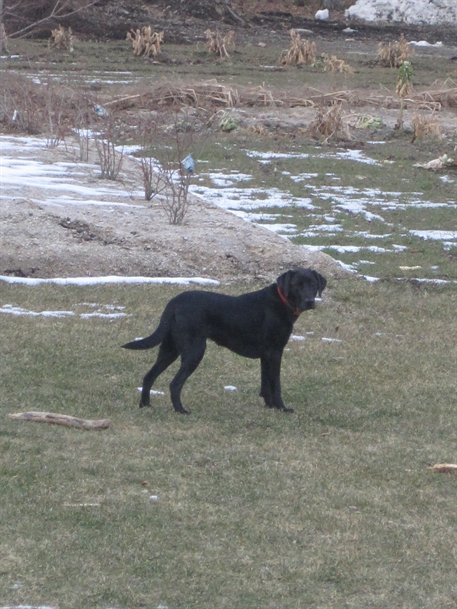 Thank you so much for letting us know how to prevent this all too common injury.
~kar