Today is National Take Your Cat to the Vet Day!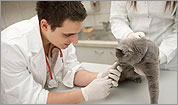 We hope your kitty is healthy and well!
How often do you take your cat to see the vet? How does your cat behave? Do you have any tips for other cat owners when it comes to visiting a vet?