Oh, Rama. My GD just left, she is 9 and without her I would not have gotten that "bowl" made. It sprang on us 3 times and I said, "Oh, I don't know, XXXX, maybe we could give it to your mother like this, a flat hot plate! My old fingers don't know if I can do this. I'm so sorry. I wanted to show you a fun craft to make." and she said, "That's why you have me, Nana, I have little hands, I'll try pulling up the sides." She did, and it was a little lopsided and I tried to "fix" it, and it sort of fell apart. One more time we tried and stopped short of having it as tall as it should be, doesn't show off the colors, because it's not pulled high enough, but I praised her to high Heaven and gave her the Mod Podge to slop a good thick coat on. Don't know what we were doing wrong except maybe not having the strips wide enough to allow for pulling it up a bit. Anyway, it sits on wax paper with the inside mod podged and I told her I would carefully do the outside with one or two coats and box and wrap it for her to have here Christmas morning to give to her mother. I ask you, is there any sweeter grandchild anywhere? I don't think so.
we hurridly made a batch of trees, bells, boys, and stars with sprinkles and her Dad came in just in time to eat the leftover dough, Rama! Plated up most of the cookies, warm and all, and off they went.
The tutorial I went by was: Coiled Magazine Paper Bowls, and here is a pic of the bowl we made this afternoon. Will post a pic when it is all done and shiny.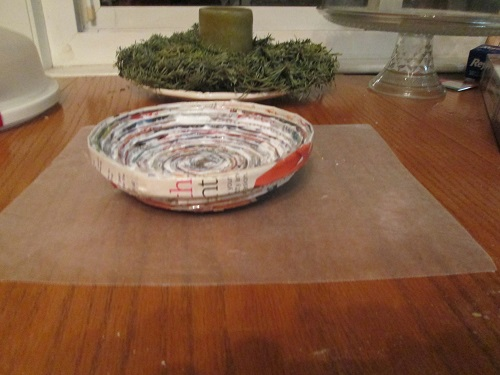 Have to add a P.S. much too difficult for a 6 year old.