Keeping cool this summer for wig wearers has never been easier with Paula Young's exclusive COOLCAP construction featuring airy WhisperLite® fiber. Paula Young® (www.paulayoung.com) is one of the world's leaders in wig and hair pieces and the exclusive COOLCAP construction allows air to circulate and wicks perspiration from the skin – keeping the wig wearer itch-free, cool and dry all day. These revolutionary wigs are comfortable, natural and ultra-light for effortless style -- even when temperatures rise. Best of all, they are extremely affordable, with many styles priced under $60.
WhisperLite
® fiber is half the thickness of traditional fiber and creates incredible fullness without added weight.

COOLCAP construction and WhisperLite® fiber is available in a variety of Paula Young wigs.


Visit www.paulayoung.com for a full selection of COOLCAP/WhisperLite® styles and colors.
About Paula Young®
Based in West Bridgewater, Massachusetts, Paula Young® is the world's leading retailer of hair inspirations. Since 1978, Paula Young® has been the trusted name for women in the United States and Canada in terms of quality, price and selection in the hair fashion industry. With more than two million customers, Paula Young® offers a variety of beautiful styles -- long and short, curly and straight, in a full range of natural colors -- in no-fuss synthetic fibers as well as luxurious 100% human hair.

Featured in such national publications as Good Housekeeping, Woman's Day, Family Circle and Ladies Home Journal, Paula Young® represents the cutting edge of hair fashion. Featuring both classic and fashion-forward style options, the company prides itself on providing stylish, affordable, high-quality hair enhancements at affordable prices to women of all ages. For more information visit www.paulayoung.com; 1.800.343.9695.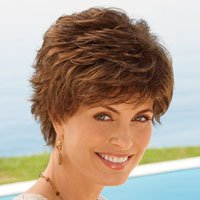 Leary PR for Paula Young
®