The newly-renovated Finagle a Bagel (www.finagleonline.com), located at 535 Boylston Street in Boston, celebrated its Grand Reopening on Friday, April 2. Boston Mayor Thomas M. Menino was present to cut the ribbon with Finagle Co-Presidents Laura Trust and Alan Litchman.
Finagle has recently renewed its Copley Square lease for an additional ten years.
"Even in a difficult retail market, we knew we had something special in Copley Place. We were honored to have the Mayor present at our ribbon cutting ceremony. It is another sign of the vitality of our city and the future for small businesses throughout the City," explains SJB Bagel Makers of Boston and Finagle Owner Laura B. Trust. "Our newly renovated Boylston Street restaurant reaffirms our commitment to our company, our guests and the City."
"We have recognized how important small businesses are to the local economy and have worked tremendously hard to ensure that each small business has the support it needs to thrive in Boston," stated Mayor Thomas M. Menino. "This ribbon cutting was not only an example of that hard work but is also a symbol of how strong Boston has remained through this economic downturn."
The Boylston Street Finagle a Bagel is the company's' flagship location and was its first location outside of its original spot in Faneuil Hall. Opened in 1993, it has continued to be a bustling casual dining venue in the heart of Back Bay. The extensive renovations in the two level restaurant create a warm atmosphere featuring contemporary décor with inviting space for both takeout orders or in-restaurant dining. The second floor dining area is recognized as one of the best places in the city to enjoy the streetscape and people-watch. The Boylston Street Finagle will serve as the prototype for other Finagle restaurant updates.
About SJB Bagel Makers of Boston
SJB Bagel Makers of Boston, Inc. and Finagle a Bagel are located in Newton, Massachusetts. Finagle a Bagel is a leader in the casual dining sector and offers a wide selection of bagels, freshly prepared sandwiches, wraps, salads, soups, flatbread pizzas and other casual dining fare. The company is headquartered at 77 Rowe Street in Newton, Massachusetts.
For more information visit www.finagleonline.com.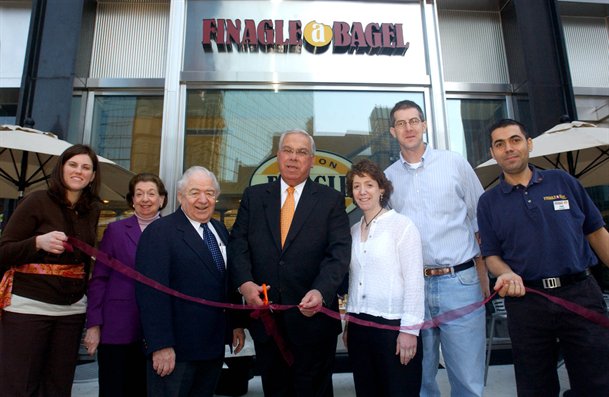 Pictured from left to right: Susan Gould, Head of R&D for Finagle a Bagel; Martin & Diane Trust, Guests; Mayor Thomas M. Menino, Co-Presidents Laura Trust and Alan Litchman; Paulo Pereira, General Manager, Finagle a Bagel Boylston.

Leary PR for Finagle a Bagel