Ever wonder how celebrities manage to look fabulous day after day? Often, their style secrets revolve around a collection of fashionable wigs and hairpieces. Especially Yours® catalog and website (www.especiallyyours.com), the nation's leading source for wigs and hairpieces for black women, provides shoppers with an extensive assortment of both synthetic and human hair wigs and hairpieces. "Wigs and hairpieces are the key to instant glamour," explains Colleen Cheney, Vice President of Merchandising for Especially Yours®. "Duplicate your everyday look or dramatically change your color and/or your style – the key is to have fun."
Hair Options Galore
Today's styles range from short and curly to straight and sleek to long and tousled. Gorgeous color has never been easier to achieve: look for honey blondes, shimmery silvers, glossy brunettes and brilliant auburns. What's new: lace-front wigs and quick weave complete caps offer full, natural-looking styles with the utmost in convenience.
Beautiful hair doesn't need to be expensive: hairpieces start at $19, synthetic wigs at $29 and range up to $159 for Remy human hair lace-front styles.


Especially Yours®
Especially Yours® offers a wide assortment of fashionable, versatile wig and hair piece styles and apparel for the fashion-conscious black woman. From special occasion to everyday wear, Especially Yours® has hair fashions for everyone – easy synthetic styles, human hair designs, falls and headband styles, fashion add-ons and hair pieces.
As the market leader in these product categories for black women, Especially Yours® continues to set trends in contemporary hair design, with exclusive signature collections from celebrities including Diahann Carroll. Especially Yours® has further enhanced its product line with revolutionary innovations including WhisperLite® fiber, a wider range of sizes, and new approaches to color blends and highlights. Other signature brands include Foxy Silver®, It's a Wig(tm), Motown Tress and Revlon® Ebony.

Especially Yours® also offers an exciting apparel collection that features top-quality designs at affordable prices. This line includes everything from flowing caftans and Christian-themed casual wear to elegant suits by some of the industry's top designers, including ML Studio by Milano, Susanna, Lisa Rene, Verucci by Chancelle and Nubiano. Matching hats and handbags complete the chic, head-to-toe looks. For more information visit www.especiallyyours.com; 1.800.939.9447.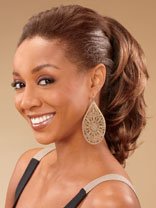 Leary PR for Especially Yours®