Hi Ladies,
These are long overdue but I have been so busy I haven't had a second until now so here they are and hope they are helpful to someone in the future! Hope its not too long!
Hilary's Bridal:A++++++++
I had a wonderful experience with Hilarys. Located in Plymouth, they were recommended by a teacher my mom works with and I made the appt last Jan. I had gone to David's Bridal the weekend before but hadn't found anything I loved. I had a list of about 7 dresses at Hilarys and the third dress was my dress. It was the perfect NYE dress for me. The women there, from Mary to Emily were fantastic...always helpful. My alterations were done their and very inexpensive which was a nice plus. They also did the bridesmaids dresses and were wonderful to work with. My 3 girls got their dresses from them plus my junior bridesmaid who got her alterations done there. It was a great easy experience and there was no drama which made it that much more wonderful.
Indian Pond Country Club, Kingston, MA - Blackstones Room: A+++++++++

I found Indian Pond online through The Knot and didn't expect to like it....while beautiful I thought it would be out of our price range. DH and I looked at after looking at another country club in Brewster and IPCC blew that one out of the water. It was gorgeous inside and out, with a wonderful sales and function team that was pleasant from the start and never pushy through the whole process. I looked a few other places but nothing compared so it was Indian Pond and I am so glad we used them. Every one of our guests loved the venue and we are still getting rave reviews from people about it. The food, the staff and the servers were wonderful on that night. I couldn't have asked for a better expereinece and loved how easy and flexible they were to work with. They even offered us the larger room for no additional charge 2 weeks before the wedding as they had no other events planned for that night but I adored the look of the Blackstones Room and it was the perfect size for our 95 guests.
Mike's Music, West Bridgewater, MA: A++++++

Mike was a great DJ and really enjoyable to work with. When we started looking, I had contacted Mike and asked to meet with him. Fortunately, DH was working nights so he was around to come and meet a lot of potential vendors with me and liked Mike from the start. He came to our house and met with us, showing us the website where we would make our song selections and gave us ideas for extras, like the uplighting that DH requested as well as threw in confetti canons free for midnight. He met with us and Indian Pond in the spring to see where we wanted to place the uplights. The night of he had everything organized and was very flexible with times and reminding us about dances and even remembered a special song I had requested for DH and me later in the night. He had a great mix of Auld Yang Syne with a midnight countdown and would announce the time from 11 until right before 12 to get any stragglers onto the dancefloor for the countdown. The music was great and he kept the dance floor packed until well after midnight.
Altared Visions, Fall River, MA: A++++++++++++++
I had booked them almost as soon as we had our date booked. My cousin had used Pam for his wedding and she was fantastic. She stayed out of the way and they had wonderful, artisitic pictures. I booked Pam before James joined her so I didn't meet them as a duo until the wedding night. They are a fantastic creative duo and I can not thank them enough for the beautiful memories they have preserved for us. We had a great time posing with our bridal party in the church after the ceremony with them and they captured some great moments while getting ready and all through the night. I do not have one picture that I don't love and am so happy to have chosen this wonderful team.
Cold Spring Chapel, Plymouth, MA: A++++++++

I got this recommendation of of the The Knot while I was researching churches. While I wasn't hooked planning either a religious ceremony I was keeping my options open. When I couldn't find a church a girl recommended Cold Spring and I looked it up. It was a cute white nondenominational chapel right on Rte 3A in Plymouth right near our hotel. I was excited so DH and I went to look at it on a snowy Saturday in January. Genevieve was a delight and very helpful. We could pretty much make this blank canvas our own and it was a beautiful place for us to say our vows. I had several meetings with Gen during the planning process to bring the florist and organist there to get a lay of the land and she was very accommodating. We had a great rehearsal there and beautiful ceremony that we will cherish with our memories.
Reverand Nancy J. Wurlitzer, Yarmouthport, MA: A++++++

I found Reverand Nancy on The Knot as well and we spoke a few times on the phone before I signed a contract with her. She was a very pleasant and organized minister with whom we were able to create a personal, intimate ceremony in which we pledged our lives to each other. She was very helpful in making suggestions on readings, and different vows/ring exchanges to guide us and even let me make changes close to the ceremony. She was wonderfully helpful for the rehearsal and guided everyone so that they knew exactly where and what they needed to do, without condescention. I really enjoyed her and she gave us a beautifully printed copy of our vows to keep as a momento of the occassion.
Lois Toeppner, Westboro, MA: A+++

DH found Lois online and I contacted her to be our organist. After many unlucky or unreturned tries to find a ceremony musician she was a great fit to our ceremony. She had a great many selections and samples on her website of pieces she could do for our music. She was the last vendor we had booked as we were stumped at where to look and luckily we found her. She was delightful and met us at Cold Spring one night to check out the organ and make suggestions for us to use for our different ceremony times. She helped us get the right songs and she was wonderful on the night of the wedding.
Celebrations, Inc. A+++++++

I found Sharon online and contacted her for save the dates originally.
She was very pleasant and helped create a fun,inviting save the date for us to send to our guests. She has an adorable little storefront in Duxbury center and had thousands of samples for me to look through and pick out ideas that I wanted for the save the dates. She was reasonably priced and put them together for us. She also helped design and print our invitations for us. They were a little bit more expensive so my mom and I did the assembly on those which were quite easy and saved us a little money. Everyone we heard from loved the invited and our picture timeline of the wedding event. I was very happy and will keep her in mind for future events.
John's Greenhouse, West Bridgewater, MA: A++++++++++++++++

I am a little biased her because my mom's best friend works for this florist and helped to create all our floral pieces for the ceremony and reception.
I came up with different options of pictures I had found online and in magazines. With help from her and DH, we created a beautiful ceremony space full of white flowers and
a reception full of purples and greens to make a fun, elegant space for our guests. She also helped create evergreens to go around the mantlepiece at Indian Pond as well as decor for the card table.
I am still getting great compliments from the guests as well as Cold Spring hoping to use John's as a preferred vendor in the future.
Danielle Ross, West Bridgewater, MA: A+++++++++++++++++++

Danielle has been well reviewed on her many times so I can only add more praise to what a wonderful person and makeup artist she is. From the first time my mom and I met her, I knew that she was to be my artist for the wedding. She was very warm when we met her at her home and she explained everything she was doing as well as documenting what she used on me. She was friendly and talkative during the trial as well as a great familiar face to calm nerves while getting ready on the wedding day. I never felt prettier than I did on that day and everyone loved it. I am very happy to have found Danielle and had her as a wonderful addition to my special day.

Pixie Cakes, Taunton, MA: A++++++++++++

This company is run and owned by one of my closests friends. She runs it out of her home and mostly gets referrals from friends and family. She is a pastry chef and works ful time in Quincy as a chef as well. She designed both my wedding and a grooms cake for my DH. I can not say enough about her fantastic culinary skills but I think only pictures can do more for her here so below are the wedding cake and grooms cake. I had her create the grooms cake for our rehearsal dinner as a fun joke between DH and I. When starting the planning, he was wanted a cake made of chicken nuggets....of course I immediately vetoed the idea but it gave me a better idea for a grooms cake that you see so often on bridal shows. I never could have imaged it to be any better, and the staff at Johnny Macaroni's in E. Bridgewater were floored by the design.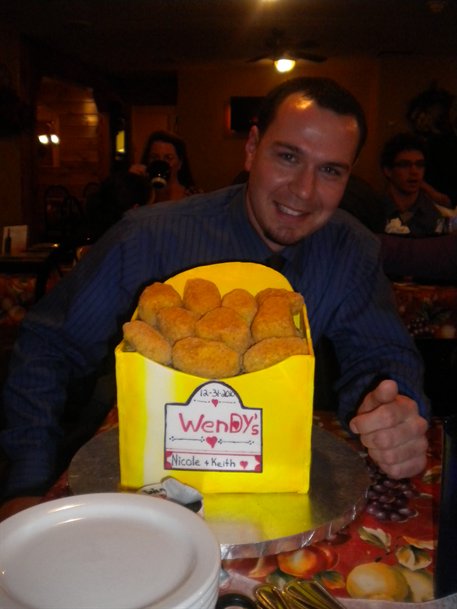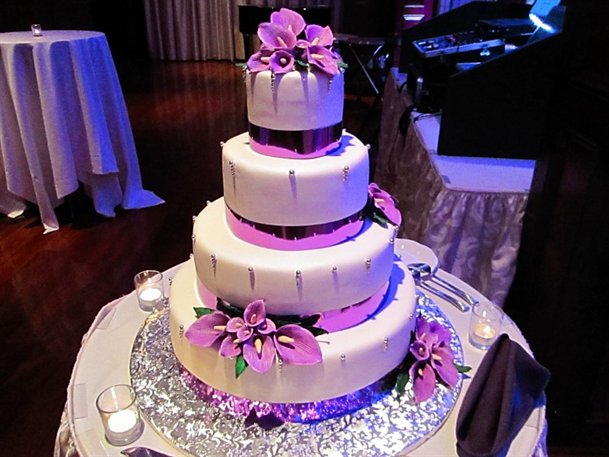 Hairdresser: A++++++++++

I used my regular stylist who works for Exhale Salon in Bridgewater. She brought another stylist with her and they worked out of my moms hotel suite to do the hair for my bridesmaids, MOB, MOG and myself. They were fantastic to work with and were done quickly but not sloppily. It was fun to have all us in one place to get ready and relax before the wedding and thanks to DH we had a great fruit basket from Edible Arrangements to munch on while we got hair and makeup done.
That's all the vendors, if anyone wants pictures or websites/contact info. send me a message on her and I can get it to you. Enjoy!!