Finally, I couldnt ask for a more perfect day!!
Thank you all for all your help! I havent contributed too much over this past yr and 1/2.. but reading all your posts really have helped!!
Bridal shop-My gown-Victoriana by Maggie Sottero
Bride N Belle- A+
I honestly had a really great experience with this shop, it is quite messy..but they gave me 10% off, my dress came in on time, they did a great job with the alterations! I would recommend them.
Gianna's-Bridesmaids dresses = A-,
I gave them a minus bc of their costumer service.. we spent a lot of money there and just did not think they were the nicest bunch of people. But the dresses came in on time with the proper sizes..so cannot ask for much more than that!
Tuxes- Russos Tux- A +: Did a great job, reasonable priced, guys looked great!
Makeup: A + My friend Linda Graham, she did a great job!!
Hair: A++ Images by Design in Derry, NH-I lucked out with this place, they girls there are wonderful!! My hair never faltered once!
Invitations: A ++, the paper tree in Newton ,MA.. a little hidden gem of a shop. The owner, esther I believe, .. is incredible and really helped me find an invitation that I loved that I could afford. I ended up going to her after many frustrations with only samples that I just didnt love!
DJ: =A + : A friend of the family's, DJ Kenny Babbin.. HE is WONDerful!! He really made the party so much fun all night!! he knew what to play and when to play it! He get involved just the right amount and did not over due it..
If anyone would like more info on it, please let me know!!
Cake: A : JAques Pastries out of I believe Salem, NH: Our cake was delicious!! They did a greay job, it was crooked! My only complaint was that the daisies looked a little like evil daisies. but I think I was just being overpicky! Overall they did a wonderful job!!
Hotel =A : Holiday Inn, Salem NH: Very good, a bit pricey.. but everyone seemed to get good accomodations and they let us party late night :o)
Transportation to and from hotel for guests= A: 1st school shuttle bus, wonderful service, everyone said the bus driver did a great job!
Flowers: Ford Flowers, Salem NH: A++ SOOOO great, loooved my bouquet, centerpieces and girls flowers.. they did a great job!!
Photographer: Erica Ferrone: A+ : She is just so wonderful to work with. She is probably the sweetest person I have met! She made it very fun, I have only seen a couple of pics from the wedding so far.. but I have no doubt in mind, she did a great job! Very Professional and reasonably priced! www.ericaferrone.com
Videographer: A: Nicole Resendes: It is hard to grade her right now bc I dont know the finished work, but she was very nice to work with, I hardly noticed she was there! She is very reasonably priced.. the only downfall is she said it might take up to 6 mos to get the video.. but I think it will be worth the wait!
JP: A +: Jeffrey Demarco, NH: He is so wonderful! He just made our ceremony feel very special..would highly recommend.
Linen Company: A: Divine Linens, NH: great job!
Limo: Black Tie Limosine: A: Did a great job, driver was very nice, waiting for us and helped calm my nerves as he fluffed my train!
Venue: Promises to Keep, Derry, NH:A++++ :
I cannot say enough about this place.I was in awe of how well our day of coodinates did with everything. I felt so relaxed. I really gave them about 10 boxes full of decorations/candy buffet stuff and they set it up in the most amazing way! They were very organized and they never let me feel like I had anything to think about except having fun! The outside wedding in the garden was amazing, they helped make sure my dad(who was in a wheelchair) was taken care of, and that everything was perfect. My coodinators were Ellie and John!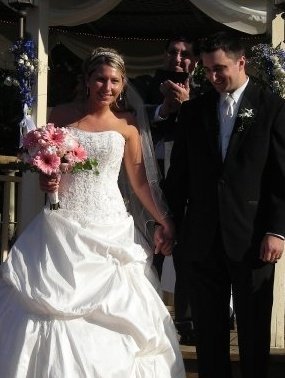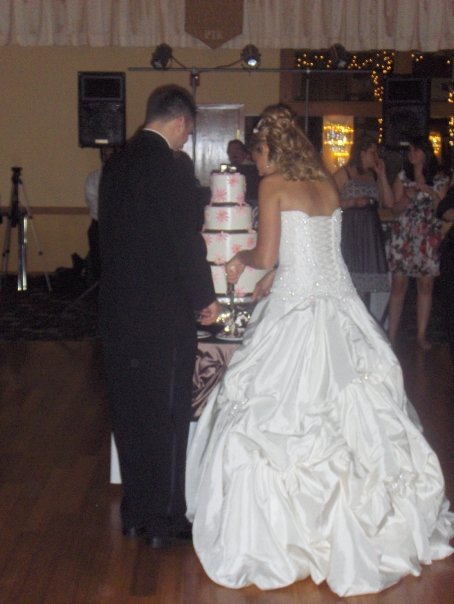 Honeymoon: A++, Tamarijn All inclusive! : It was beautiful! I couldnt have asked for a better honeymoon!