Once again, MBTA is in financial crisis. Its subway, bus and trolley users are being threatened with service cutbacks because MBTA has failed to adjust its expenses for changes in ridership and has mismanaged costs of the subsidized taxi service ("The Ride").

Federal information on U.S. transit systems has been collected since 1979. Data from 1991 through 2010 are now readily available to the public. They are used in the following review. [ National Transit Database, U.S. Department of Transportation, 2011, at http://www.ntdprogram.gov/ntdprogram/data.htm ]

While the Cellucci administration did palm off onto MBTA about $3 billion in state debt for Big Dig highway projects, MBTA reports show only about $70 million per year attributable to it. It is not a new phenomenon and does not account for the current crisis. Instead, what happened to MBTA is about nine years of financial mismanagement, allowing costs to rise when ridership was stagnant or in decline.

System-wide ridership flattened after 2000, then entered gradual decline after 2005. Except for the heavily subsidized taxi service, all MBTA riderships have declined. That began well before the 2008 recession. MBTA management failed to reduce costs in the face of reduced demand for services.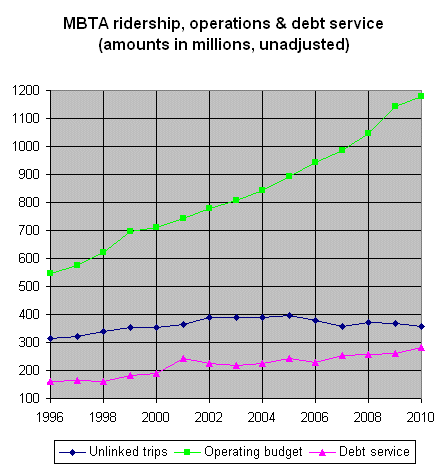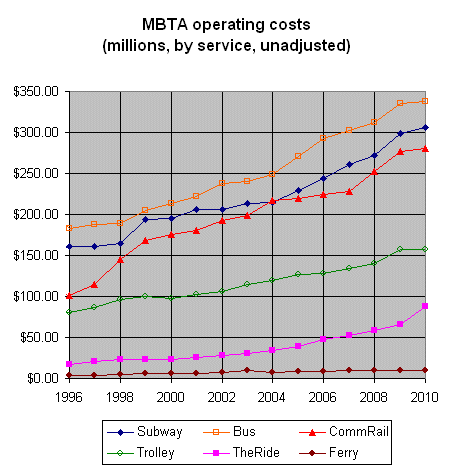 From 2000 through 2010, there was relatively steady growth in subway, bus, trolley and ferry costs. In contrast, there were waves of cost increases for commuter rail around 2000, 2004 and 2009, and there have been surges of increases in taxi costs. Here are trips per year in millions, for 2010, peak ridership years, percentage drops in ridership from the peaks, at 2010, and costs per trip in 2010, for each type of service:

Service Trips Peak Drop Cost/trip
Subway 139.0 2002 14% $2.20
Bus 108.1 2005 20% $3.13
Trolley 68.6 2006 19% $2.30
Com.rail 36.9 2003 9% $7.59
Taxi 2.1 2010 N/A $41.65
Ferry 1.3 2003 12% $7.66

One useful way to look at MBTA costs is to adjust them for inflation, done here with the national Consumer Price Index and showing trends in MBTA cost per trip, over the years, in 2010 dollars. A decline in bus ridership between 2005 and 2006, occurring before 2007 fare increases, strongly affected bus cost/trip.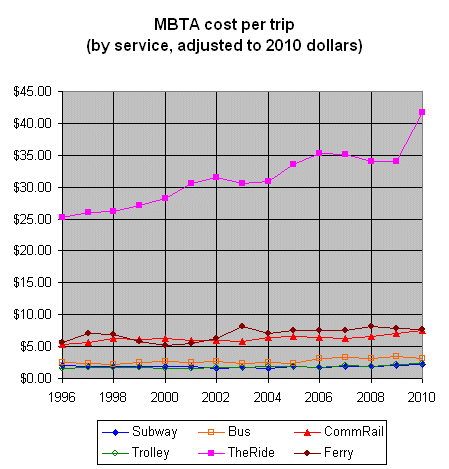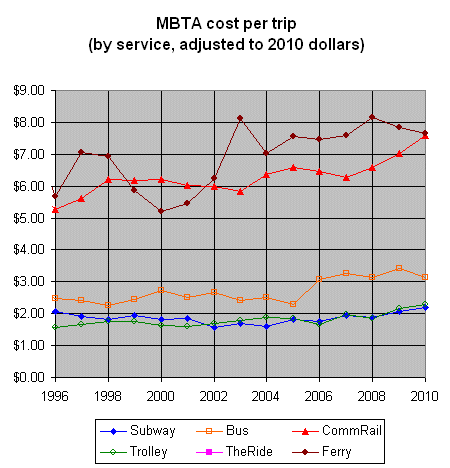 Since the 1940s, MBTA has underpriced bus service. It costs more per trip to provide than subway and trolley service. Since the last fare increases at the start of 2007, the following fare increases, derived from percentages by service, not current cost/trip, would approximately match increases in MBTA operating costs:

Service Increase
Subway and trolley $1.70 to $2.35
Bus $1.50 to $2.35
Commuter rail 30%
Taxi N/A
Ferry 15%

Except for the subsidized taxi service, the strongest effects on inflation-adjusted costs come from changes in ridership. Nearly half the increases needed to balance MBTA finances come from spreading costs among fewer riders. Part comes from using subway, bus, trolley and commuter rail fares to subsidize taxi service. MBTA is currently charging taxi riders less than five percent of the cost of service.