Bulldozer driver testifies in Israeli trial over Rachel Corrie's death



The testimony in a lawsuit brought by the U.S. activist's family marks his first public comments since the woman's 2003 death in Gaza. Speaking from behind a screen, he says he remembers little.


from Haifa, Israel —

The bulldozer driver who crushed to death American activist Rachel Corrie seven years ago struggled Thursday just to recall her name.

"It's Rachel-something," he testified in a Haifa courtroom. "Carrie?"

The former Israeli reservist's courtroom appearance, his first public comments since the college student's 2003 death, was expected to be the dramatic climax of the Corrie family's long-running civil lawsuit against the Israeli government. But during more than four hours of testimony, the 38-year-old Russian immigrant, speaking from behind a screen to hide his identity, said he remembered little about that day and the young woman he ran over.

He said he thought she was American. But he noted that he never followed the news coverage of Corrie's death and only learned six months ago that he would have to testify in the family's wrongful-death lawsuit.
The driver insisted that he never saw the 23-year-old

Washington

state resident until her friends rushed over to dig her body out of the dirt. He said he couldn't remember the time of day when his bulldozer rolled over Corrie and then backed up over her a second time.
The Corrie family's attorney, Hussein abu Hussein, prodded the man's memory. Perhaps you recall someone fitting her description? She was about 5 feet, 8 inches and 140 pounds, the attorney said. Fair-skinned. Attractive. Wearing a bright orange safety jacket?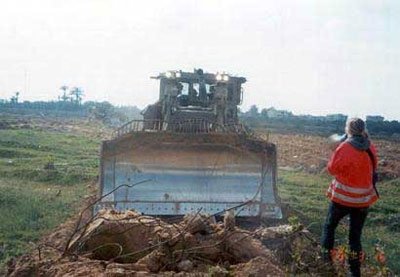 The reservist, identified only as Y, responded: "I don't remember. I saw all kinds of people."

(he did not go on to say, "and if they didn't move, I'd crush them also")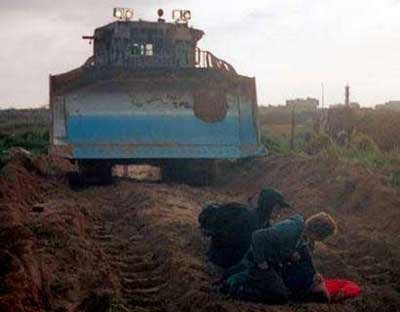 Corrie's parents, Craig and Cindy Corrie, said his vague, sometimes flippant responses were hard for them to take.

"He sounds like he has not given much thought to this in the past seven years," said Cindy Corrie, her voice cracking slightly and tears welling up in her eyes. "That's hard to hear, since for us, Rachel is in every day, every hour, every moment. How could you not remember the time of day? If I killed somebody, I would surely know when it happened."