Unemployment is in the toilet, millions of those good jobs are gone forever, private real estate is upside down, commercial real estate ready to implode, most 401k's have been destroyed, Social Security is completely bankrupt, and America and her citizens are deeply and irretrievably in debt, with half of all Americans with less than $2,000 in savings!


Now the always terminally-optimistic-Fed chairman has voiced the warning bell of the impending collapse.

Take it from whence it comes.


F
ederal Reserve chairman warns of 'unusually uncertain' outlook for US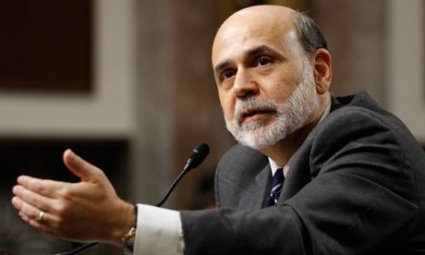 Ben Bernanke says struggling banking sector and Greece's near-collapse have delayed America's recovery. Exactly... because the financial debacle in Greece obviously directly affected America's unemployment nightmare, our gaseous real estate bubble, and our trillions in unpayable debt. Ben kept a straight face while saying this too, what a hoot!

Federal Reserve chairman Ben Bernanke warned last night that the US economy faced "unusually uncertain" prospects, and said the central bank was ready to take further steps to bolster growth if needed. What 'steps' can the fed take? Lower the already nearly-zero prime interest rate to actual zero? Print trillions more of their fiat dollars and lavish them on the failing and greedy banksters? Remember, every dollar the fed prints is a dollar plus interest in debt to you and me!
Low growth for several years was the likely outcome of current policies, but even this forecast could be blown off course, Bernanke told the Senate banking committee.
"Even as the Reserve continues prudent planning for the ultimate withdrawal of monetary policy accommodation, we also recognise that the economic outlook remains unusually uncertain. Decode this statement as "times are as bad as I've ever seen them, and they are certain to become much worse"
"We will continue to carefully assess ongoing financial and economic developments, and we remain prepared to take further policy actions as needed."
He blamed the ban king sector, which continued to labour with poorly performing loans, as one of the chief drags on the ability of companies to expand. The near collapse of the Greek economy before its bailout by the European Union was also blamed for delaying the US recovery.
He pointed to weak employment, with more than half of the unemployed having been out of work for more than six months. Average growth in private jobs of 100,000 a month this year was "insufficient to cut the jobless rate materially, (Of the past 400,000 supposedly new jobs, 90% were government jobs! Goons for increased fondling of air travelers, an army of intrusive census takers), and it would probably take a "significant amount of time" to restore the 8.5m jobs lost in 2008 and 2009, Bernanke said in prepared remarks. Those millions of jobs went off shore for a good reason; destitute third world workers desperate, to work for wages one-tenth of an American worker, and without benefits, without safety protection – these jobs will only come back when Americans are willing to work "competitively" with the third world.
He told Senator Christopher Dodd, chair of the committee: "Part of the reason I'm concerned by the situation is that this is the worst labour market since the Great Depression. People who are unemployed for a long period of time see their skills atrophy. They may become demoralised, and short term unemployment becomes long term unemployment. We need to be very concerned." The US housing market also remains weighed down by a lack of consumer confidence, he said.
Bernanke echoed deep concern at the Bank of England's monetary policy committee's last meeting that the danger of the economy falling back into recession may force further monetary loosening and an expansion of quantitative easing. Bank governor Mervyn King has said he is concerned at headwind confronting the UK economy. A lack of lending by banks was a key factor holding back growth in the economy, he said last month.
Bernanke's report showed the Federal Reserve had met 40 times to discuss ways to foster more lending in the economy. In the minutes after Bernanke's testimony was released, shares on the US exchanges fell and Treasuries climbed. The Standard & Poor's 500 Index slid 0.3% to 1,079.90 at 2:05pm in New York. Yields on two-year Treasuries fell to a record low 0.56%. The dollar strengthened against the euro.