BDC has pulled this again. So, we're going to post it again. Obviously BDC is collaborating with this criminal regime to protect the Elite's Puppet in Chief.
The IMPOSTOR in the White House should be arrested immediately.
Over 16 Years, Obama's Literary Agency Circulated Official Biography Between 1991-2007 Listing Birthplace as Kenya, Then Suddenly Changed it to Hawaii Just Before His Presidential Campaign Kicked Off in 2007
Obama's Lit Agency Used 'Born in Kenya' Bio Until 2007
According to archive.org, a website that caches websites on a regular basis, the Dystel.com website – the official website for Dystel & Goderich, Obama's literary agents – was using the Barack Obama "born in Kenya" language until April 2007, just two months after then-Senator Obama declared his campaign for the presidency.
Archive.org shows that the Dystel website used the following biography for Obama as of April 3, 2007
BARACK OBAMA is the junior Democratic senator from Illinois and was the dynamic keynote speaker at the 2004 Democratic National Convention. He was also the first African-American president of the Harvard Law Review. He was born in Kenya to an American anthropologist and a Kenyan finance minister and was raised in Indonesia, Hawaii, and Chicago. His first book, DREAMS FROM MY FATHER: A STORY OF RACE AND INHERITANCE, has been a long time New York Times bestseller.
Obama launched his presidential campaign in February 2007.
By April 21, 2007, the Obama bio had been changed to state that Obama was born in Hawaii
Here's "Obama's" BIO as it apperaed in the Harvard Law Review: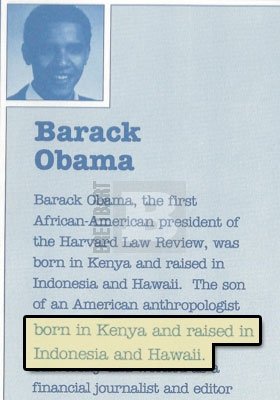 The sheeple have been punked so bad they have to resort to their mental illness to keep themselves in the Matrix world that has been constructed for them by the criminal cartel who owns our country.