John Gross representing NIST and their investigative efforts, being questioned on the molten steel found at Ground Zero.
Watch his body language as he waffles through his deceitful lies. However, at the end of this 5 minute video, he does tell a bit of the truth with his statemen
t, "Steel melts at about 2,600 degrees Farenheit, I think it's probably pretty difficult to get that kind of temperatures in a fire…" - not difficult John - impossible.. unless....
The questioner told him he had satellite thermal images proving there were incredibly high temperatures in that range, and John Gross asked that he have them emailed to him. However, after the cameras stopped rolling, he refused to give any email contact info, and hastily left the meeting.
Not exactly what you would call honest and open to all possible evidence, right?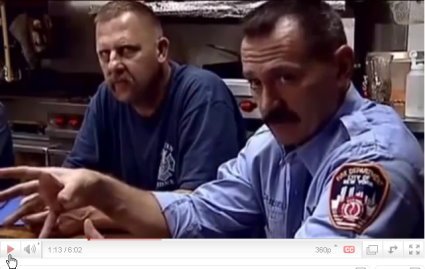 http://www.youtube.com/watch?v=FPTuAcZV_2s&feature=player_embedded#
!
I bet this video will change your mind about the molten steel found in the sub-basements of all three collapsed towers, because it is all about the eye witness accounts of professionals on the site.
And remember, a jet fuel and office contents fueled fire, no matter how big, no matter how long it burns, cannot melt steel, cannot melt concrete. This is an absolute fact of science.
So, either there was
no
molten steel and concrete, or there
was
an additional fuel source, a fuel capable of reaching the additional 1,000 degrees necessary, there's really no other answer.