This chart has been compiled by the adversarial opposition, the Red Team, who wants to re-attain the coveted reins of Imperial Power.
But that does not make it any less accurate. As a matter of fact, it has to be prtetty much right on, or they would be jeered and derided, and they dare not allow that to happen.
So, click the link to download a full-size PDF of this chart, and ask yourself how in hell something as insane as this could actually authorize a band-aid on a child's finger, much less any of the complex and time-critical health challenges we all face.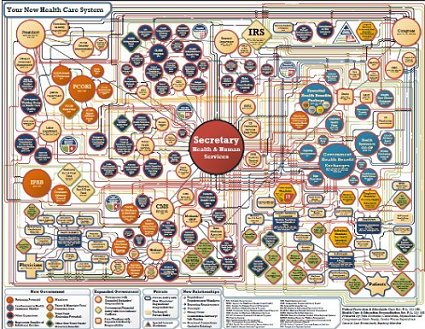 http://jec.senate.gov/republicans/public/?a=Files.Serve&File_id=5ee16e0f-6ee6-4643-980e-b4d5f1d7759a
You can enlarge this document to a size where everything is completely visible, and please remember this is the opening salvo, and as all government programs, it will grow itself, and morph into something even larger, even more grotesque, if let to its own devices.