Enrich the US economy? The only enrichment was to the bottom line of the NWO globalist corporations, who have purchased every US president for over 20 years.

Here's a flashback for you… It's gonna be good for us!. Six years later we have the highest and most intractable unemployment since the first great depression, and now we are being politely told these jobs won't be back, they're gone forever.
Bush report: Sending jobs overseas helps U.S.
By Seattle Times wire services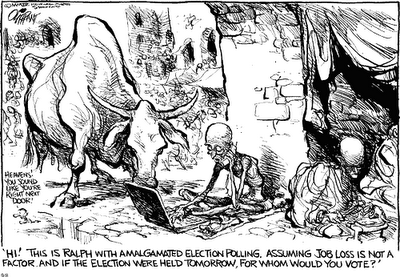 February 10, 2004
WASHINGTON — The movement of American factory jobs and white-collar work to other countries is part of a positive transformation that will enrich the U.S. economy over time, even if it causes short-term pain and dislocation, the Bush administration said yesterday.
The embrace of foreign "outsourcing," an accelerating trend that has contributed to U.S. job losses in recent years and has become an issue in the 2004 elections, is contained in the president's annual report to Congress on the U.S. economy.
"Outsourcing is just a new way of doing international trade," said N. Gregory Mankiw, chairman of Bush's Council of Economic Advisors, which prepared the report. "More things are tradable than were tradable in the past. And that's a good thing."
The report, which predicts the nation will reverse a three-year employment slide by creating 2.6 million jobs in 2004, is part of an effort by the administration to highlight signs that the recovery is picking up speed. Bush's economic stewardship has become a central issue in the presidential campaign.
COMPLETE ARTICLE

http://seattletimes.nwsource.com/html/nationworld/2001854367_bushecon10.html