Here's a video that shows 2 "squibs" blowing out of the West side of WTC2 during the collapse. There were many more squibs, on other sides of both Towers, and available on other videos, but these two are really all that we need to examine for now.


http://www.youtube.com/watch?v=0CSy84SPJLo&feature=player_embedded#!
These squibs appeared about 300 milliseconds apart, yet they are separated by over 35 floors from each other, the top one is at least 15 floors from the line of collapse and the bottom one is over 50 floors from the line of collapse.

Debunkers, when confronted by this fact, always say it was compressed debris being forced down and out of a window.

They sometimes like to use the metaphor of a bicycle pump forcing air downwards and out.

Does that make sense to you?

The design of the Towers proves their story is impossible.

Both WTC1 and WTC2 were a unique design that was intended to offer flexible and virtually boundless floor space to accommodate any desired office configuration.

It was originally completely wide open around the central core and elevator shafts, as this diagram illustrates. The turquoise lines are the trusses that compose the floors, this diagram shows 2 floors, on below the other.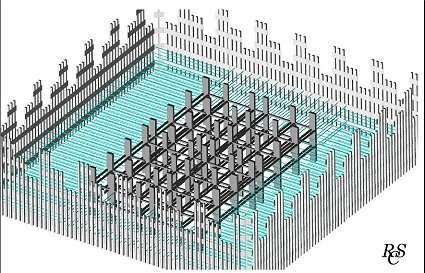 Here is a photo of one WTC office, showing the open floor space, and exterior walls with the signature narrow windows.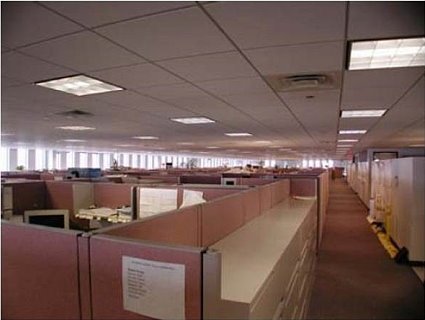 Each of the 100 floors consisted of a minimum of 4 inches of poured concrete on a 2" sheet of steel decking, supported by a series of trusses.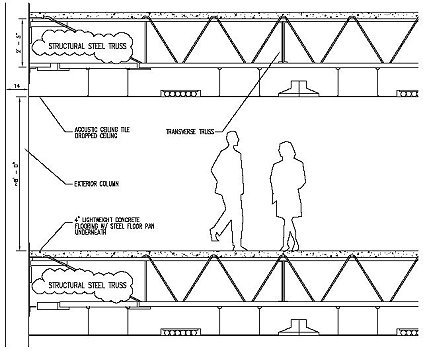 There is no way that a blast of air and pulverized dust could make its way down 15 and 50 floors to be ejected simultaneously through a single window each.

If there was some way this jet of pressurized debris could make its way down to the respective ejection points, the open floor plan would have dissipated the jet of debris across the entire open office space, either blowing out numerous windows, or just dumping the debris on the floor.

There is absolutely no way it could have been focused onto one single window, to eject at 60 miles per hour in milliseconds from the collapse over 50 floors above.



Furthermore, if you look at the Towers you will see that there were two darker-color bands several floors high, at the one third and two third mark in height.

These were called Sky Lobbies, and they were unoccupied space devoted to heavy equipment, and also as a buffer zone between the 3 sections of each tower, intended to eliminate the "chimney effect" by isolating the sections almost completely, in case of a fire.

If you watch the video, you will see the lower squib is below the first Sky Lobby, yet it blew out almost exactly at the same moment.

Think about the impossibility of that.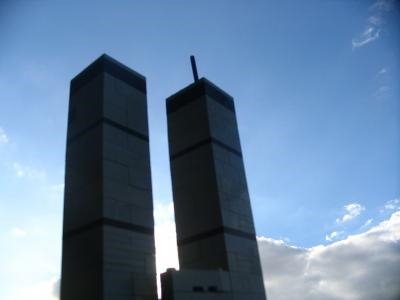 What we are seeing here is unexplained, but is most likely cutter charges that detonated prematurely.

But whatever they were, they certainly were not debris from 50 floors above, through 50 cement floors, to be ejected out of one single window.