It used to be this kind of subservient behavior by our elected "representatives" was kept out of sight, behind closed doors, but no more.

They don't any longer even care what you and I, their herd of sheep, know. They believe they have everything in place to handle any resistance, with the militarized police, electronic eavesdropping and weapons beyond comprehension. And they know 98% of the herd won't even care anyway, as they have been so conditioned to accept whatever the ruling class decides, without a whimper.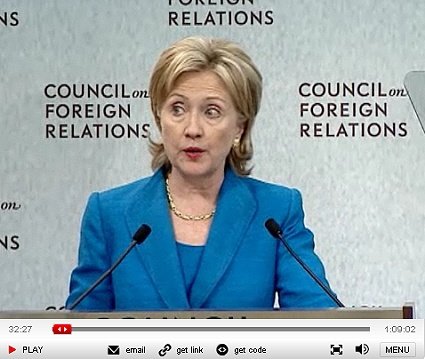 VIEW VIDEO


Hillary, speaking to the Council on Foreign Relations (CFR) during the dedication of another of their new facilities, gives her opening remarks;
"But it's good to have an outpost of the Council right here down the street from the State Department. We get a lot of advice from the Council, so this will mean I won't have this far to go to be told what we should be doing and how we should think about the future."
The location of the new outpost of the CFR has been chosen precisely to make convenient access to all of our elected "representatives" for easy indoctrination.
She comments "…this will mean I won't have this far to go…", meaning she always has been willing to travel to wherever they were, to shamelessly prostrate herself before them. I thought that lobby groups were supposed to make appointments to visit the elected "representatives", but I guess I was mistaken.

She comments "… to be told what we should be doing… how we should think…", with the "we" reference obviously indicating many more of our very top and most powerful elected "representatives" are in the tank and controlled by this private organization.
And it's not just the CFR that has this kind of death grip on our "representatives", there are numerous examples of this disgusting behavior by Hillary and many others to the powerful AIPAC organization as well.

The politics of these two organizations is irrelevant, they should be kept at arms length from policy decisions like all professional lobby groups, not genuflected to in such a disgusting fashion.

It's time we cleaned house of these snakes, and start electing honest and upright people like Ron Paul and Dennis Kucinich.



PS: Got nothing better to do right now? Play the video and count how many times she says the word "GLOBAL". (Sorry no prize except bragging rights)