Frank DeMartini was the General Construction Manager of the complete World Trade Center project, and had a deep and intimate understanding of the building's design and capabilities.
He is on the record saying the Towers would shrug off an airliner crash, and even multiple airliner crashes.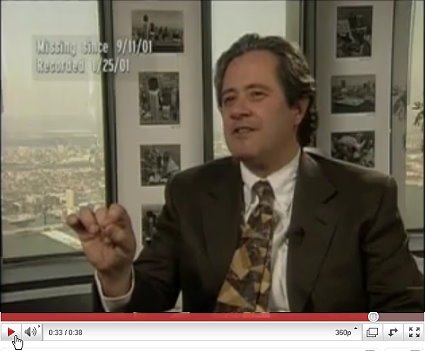 Frank DeMartini being interviewed in his WTC1 office on the 88th floor on Jan 25th, 2001.
Frank DeMartini died on September 11th a hero. After accompanying his wife down 88 flights of stairs from his office in the North Tower, he went back up with fellow WTC worker Pablo Ortiz and rescued over 70 people. DeMartini and Ortiz - both 49 years of age - perished in the collapse of the North Tower.
He said "
The building was designed to have a fully loaded 707 crash into it, that was the largest plane at the time.
"
He went on to say, "
I believe the building could sustain multiple impacts of multiple jetliners because, this structure is like the mosquito netting on your screen door, this intense grid, and the jet plane is just a pencil, puncturing the netting, it really does nothing to the screen netting.
"
He knew that the way the design had accomplished the survivability of one plane impact would have allowed the building to survive multiple impacts. The design specification called for the survivability of one fully loaded four engined jetliner, but the design execution provided uncalled-for robustness beyond the requirements.
Regardless of that amazing design, on 9/11, one plane impact brought down WTC2, one plane impact brought down WTC1, and
no
plane impact brought down WTC7, the only steel framed high rise structures to collapse - for any reason other than a controlled demolition - in history.
See it for yourself:
http://www.youtube.com/watch?v=sO1JxpVb2eU