In response to jedwardnicky's comment:
In response to skeeter20's comment:
In response to jedwardnicky's comment: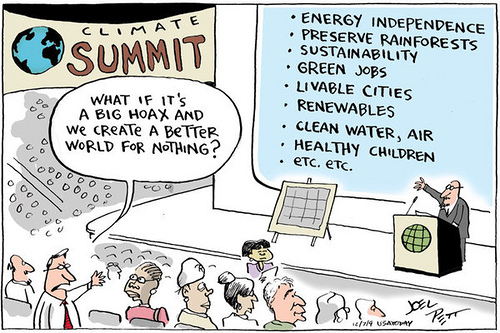 That's funny right there. You probably really think that big government creates a better world.
No, I don't. I do think small minded people such as yourself help create a poorer world.
I guess small-mided people at least have a mind. Apparently something you lack.
Your cartoon is typical of how the proponents of action on CO2 emissions distort science and basically conduct a propaganda campaign.
NONE OF THOSE ITEMS HAVE ANYTHING TO DO WITH CO2 EMISSIONS.
The other big LIE is that CO2 is toxic like arsenic and mercury, etc. or that if we control CO2 emissions weare going to have a cleaner envirnoment. Total fabrications.
And these people claim that "deniers" attack science???
jedwardnicky, your cartoon is a LIE.