In response to FortySixAndTwo's comment:

In response to DamainAllen's comment:
[QUOTE]
In response to A_Concerned_Citizen's comment:
[QUOTE]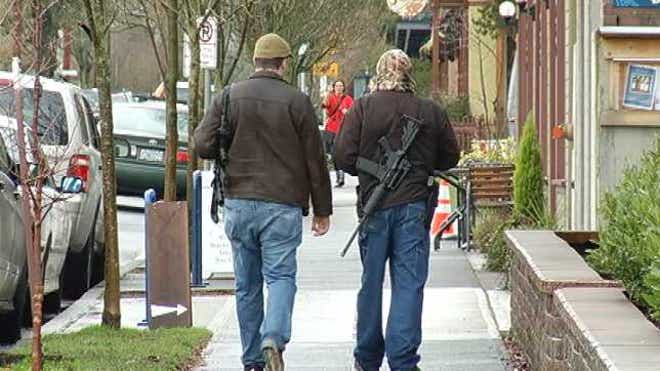 And boom goes the dynamite
[/QUOTE]

HAHAHA...what "boom"? Because he posted a pic of two white guys carry guns it's a "gotcha" moment? How so?
I said it's not normal to see CITIZEN'S walking around with loaded weapons at the ready. To my knowledge citizens are black AND white are they not? And whether it's a pic of black men with weapons in the street of white men...it's STILL not a normal occurrence and therefore understandable if people would like to be armed for fear of being around people who are.
I don't know about you but in my 46 years on this planet I've never seen anyone walking around with loaded weapons at the ready.
[/QUOTE]

Maybe you don't remember where this picture came from but I do. It was one of many instances of armed citizens asserting their right to bear arms byu walking in public with weapons. This picture is of one such instance but dozens of others were reported and each time the individuals were celebrated as patriots and the idea gained enough steam that several individuals were planning a march on washington, with guns, before the idea fell apart and the main organizer was thrown in jail. The NRA supported this, but when the blacks took up arms to protect their communties the NRA actively advocated for gun control.