Shhhhh....if you listen hard enough, you'll hear crickets from the controlled media....
PRETTY ISRAELI JAILED FOR REVEALING WAR CRIMES
The Independent, Oct 31
Israel has sentenced a former
soldier to four and a half years in prison for leaking classified documents to a journalist who used them to expose an alleged army policy to assassinate wanted Palestinian militants in violation of court rulings.
Anat Kam, 24, was convicted in February for copying 2,085 military documents on to a disc as she completed her mandatory army service and passing some of them to Uri Blau, an investigative reporter with the left-leaning Haaretz newspaper.
She escaped the much more serious charges of harming state security after reaching a plea bargain.
Her case provoked a domestic uproar - in part because she was held for four months under secret house arrest with the Israeli media banned from reporting on it, but also because it was viewed as an assault on the freedom of the press. The Independent was the first newspaper to report on Ms Kam's arrest.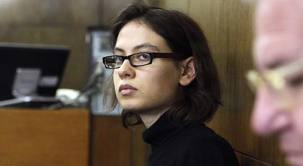 In passing sentence yesterday, the three-judge panel elected to send a clear message to other would-be whistleblowers. "If the army cannot trust the soldiers serving in various units and exposed to sensitive issues, then it cannot function as a regular army," the judges wrote. They said that Ms Kam's motive for taking the documents was "mainly ideological". Ms Kam has already served nearly two years of house arrest, which will not count towards her prison term, and she received a further 18-month suspended sentence.
As a clerk in the Israeli Defence Forces' central command, Ms Kam stumbled across documents that appeared to point to the premeditated killing of Palestinian militants in the West Bank, despite a Supreme Court ruling that severely restricted such operations, determining that the army should arrest suspects if possible.
MORE HERE