Why?
Anyway, LifeIsLife, here's your post, and my response:
In Response to
Re: Osama bin Laden... Dead???
:
In Response to Re: Osama bin Laden... Dead??? : That isn't how it works. You are making an outrageous claim, that bin laden is dead and that the CIA and Mossad is engineering the ficiton that he isn't in order to maintain a global conspiracy. You need to provide PROOF. Not me, not Whatisnow. YOU. And the tid bit you showed is evidence of nothing. First it isn't even sited. Second all it would demonstrate if it is valid, is that the CIA does engage in PSYOPS and they manufacture evidence toward that end. That doesn't prove they've done anything to support a global hoax regarding bin Laden's death.
Posted by LifeisLIfe
The CIA has admitted to faking videos of bin Laden, here is your citation, 'smatter, don't believe me?
Osama bin Laden is dead, reported sparingly in the MSM, and his obituary was reported in the Egyptian Paper: al-Wafd, Wednesday, December 26, 2001 Vol 15 No 4633.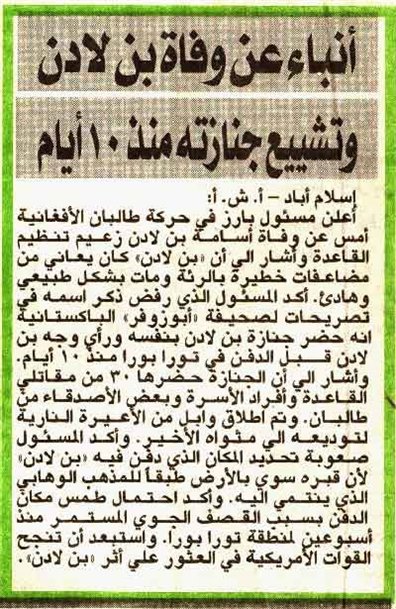 Translation of above article: Islamabad - - A prominent official in the Afghan Taleban movement announced yesterday the death of Osama bin Laden, the chief of al-Qa'da organization, stating that binLaden suffered serious complications in the lungs and died a natural and quiet death.

And the only sightings since then have been faked videos of actors that vaguely resemble Osama until you compare the fakes with certified photos

So, now you know that Osama has been dead for years, and now you know the CIA is keeping him alive through faked videos. The reason they do this is for the purpose of perpetuating the necessary boogey man required to keep our phony war on terror alive.

Refusing to believe these facts proves that PT Barnum was correct; you really can fool some of the people all of the time