Our #FeaturedParentBlogger this week is Christa Terry from I Know How Is Babby Formed. Here she is with her son, Hunter.
Welcome, Christa!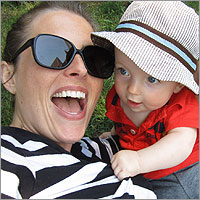 Please tell us more about yourself and your blog. We look forward to learning more about you this week!
Readers, feel free to stop by to say "hi" to Christa or ask her a question. We'll be chatting with her all week long in these forums so we hope you'll stay with us. Find out more about each day's theme.
Also, learn more about our past Featured Parent Bloggers. Want to nominate a blogger (or yourself) for this series? Just post a link to the blog here.