Stats for the first 13 games, 2009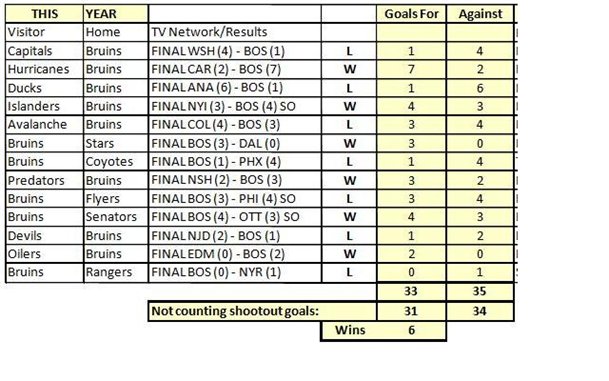 Stats for the first 13 games, 2008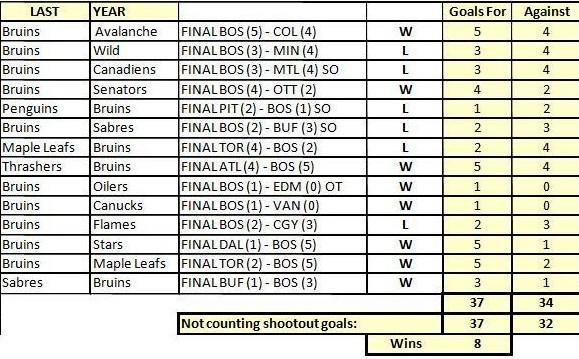 Goal scoriing is an issue, though not as significant an issue as we might have thought, taken on its own. Bs are -6 relative to last year in the scoring department (6 fewer) and +2 goals against.
No stats will tell the whole story on their own; such is the nature of stats. Obviously. But taking into account goals for and against, excluding shootout goals, is definitely a good starting point. And it's also a good stopping point for speculation about certain claims that are being made to the effect that the Bs are doing as well or poorly as last year by this time.
These numbers won't tell us anything at all about causes, since correlation doesn't imply causation and doesn't give us any information at all about the interesting stuff. For that we need interpretation and a serious analysis of what's different. But what's different is essentially everything--or almost everything.
The rosters are different and the Bs are
not just missing 2 key players--they're missing 2 of the key players
, hands down. Looch creates space and opportunity, as we all know very well, and Savy creates offensive opportunities
par excellence
, and often from nothing.
Good news: Things should get much better once this handicap is gone.
Bad news: A team that's so dependent on one or two players for offensive production is by its very nature incomplete. That is, depth is important but doesn't only involve scoring.
The notion of depth hangs on whether the team has starters
and
finishers. It would appear that at present, both are lacking. That's bad news because you need both departments to have
real
depth. So it will be nice to get the starters back (opportunity creators), Looch & Savy, but the rest of the finishers seem to be quite useless without these 2 key figures. So the depth on this team is an illusion created by a massive reliance on the starters.
More bad news, I suppose. But to make light of misery, it's a positive thing that management figured this out now (assuming they've figured this out at all), with the loss of their backbone (Looch) and their production manager (Savy). Usually, you have to figure these things out with hypotheticals. Well, it's here and it's clear.
Ailment diagnosed. Treatment? Figure it out, and do it fast, boys, because from the stats on my blogs and videos, it's safe to conclude fans are losing interest.