BRUINS (52-18-6) at MAPLE LEAFS (37-32-8) TV: TSN, RDS2, NESN Last 10: Boston 8-1-1; Toronto 2-8-0
Season series: The Boston Bruins have defeated the Toronto Maple Leafs in two of three games, all played by mid-January. A 4-3 win Jan. 14 was the Maple Leafs' first against the Bruins since Game 6 of the 2013 Eastern Conference Quarterfinals.
"There's a level of desperation that goes into it from our standpoint when you play teams of that caliber, you have to be on the top of your game," Toronto coach Randy Carlyle said Wednesday. "You have to be playing at your highest level."
Big story: Toronto will be trying to win two in a row for the first time since a three-game streak from March 5-10. The Maple Leafs ended an eight-game losing streak with a 3-2 win against the Calgary Flames on Tuesday. "It's a lot better feeling in the room today, coming in here," forward Tyler Bozak said. "There's a little more life. It's nice to get that first one; hopefully we can go on a roll here."
Toronto is one point behind the Columbus Blue Jackets for the second Eastern Conference wild card into the Stanley Cup Playoffs, having played two more games.
Team Scope: Bruins: Boston, which lost 3-2 at the Detroit Red Wings on Wednesday, is planning to rest players prior to the start of the playoffs. It started Wednesday when forward Jarome Iginla was scratched, and is likely to continue with road games and back-to-back situations, which is how the Bruins close the regular season.
The Bruins lead the Pittsburgh Penguins by nine points for the top seed in the Eastern Conference. The Bruins would clinch the top record in the East if they defeat the Maple Leafs in any fashion and the Penguins lose to the Jets in any fashion, or if they get one point against the Maple Leafs and the Penguins lose to the Jets in regulation.
Boston is 13-2-0 in the second game of a back-to-back after going 12-3-1 in the opener. The Bruins had won nine straight road games and have earned a point in 16 of 17 games (15-1-1).
Forward Carl Soderberg could leave the team to be with his wife for the birth of their child. Goalie Chad Johnson could play after Tuukka Rask made 17 saves Wednesday.
Maple Leafs: After ending its losing streak, Toronto had an optional practice Wednesday.
"It was nice coming in here, getting some rest, just a stretch and a little workout," defenseman Jake Gardiner said. "It was nice getting that win and getting the rewards from it." Carlyle had a more practical reason for the light day.
"It's not so much of a reward," he said. "I think it's more about, we've got some banged-up bodies. [It's] more about saving some energy for the game tomorrow night. We just felt that this would be the best avenue to take today."
Goalie Jonathan Bernier will start.
Who's hot: Bergeron had an assist Wednesday, but his seven-game goal streak ended; he had 11 goals and seven assists in March. Defenseman Dougie Hamilton has seven points in his past seven games. Soderberg has five in his past four. … Maple Leafs forward Jay McClement and defenseman Cody Franson each has a two-game point streak. Forward David Bolland has two goals in his past three games. Gardiner has eight points in his past eight games.
Injury report: Bruins forward David Krejci (sore throat) played Wednesday. … Maple Leafs defenseman Paul Ranger (upper body) played Tuesday after missing five games. Forward Phil Kessel (foot) continues to play despite needing X-rays Saturday."
The delusion of Lufa fan: Brought to you by TSN comment section
chelch
"Boston lost last night because they sat back and tried to save energy for tonight. They are scared of the Leafs after almost losing to them last year. They will give all they have tonight to try and knock them out so they don't have to face them 1st round"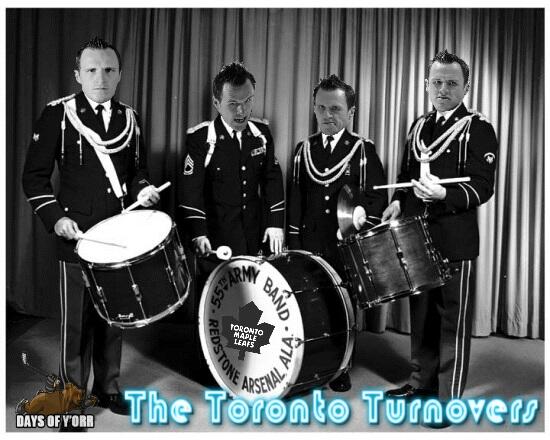 Strike up the band. Carlyle requests the song "desperation" please!