One of my wife's 2 cats is quick, self centered and sleeps most of the time, and she's reasonably stupid, but she is quick, I'll give her that. Her name is Mylie. I try to explain backchecking and team play, but it seems that it only sinks in as deep as it does with #81 of the Toronto Maple Leafs, so I sometimes call her Kessel.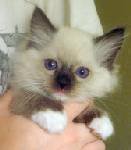 The breed is ragdoll. She interviews better than Kessel, in addition to the standard meow and purr, she makes a trilling sound, a cooing sound and one that sounds like a bird chirping. So she might have more of a vocabulary than Phil. And she doesn't have zits like Phil always seems to.
My wife might be upset, but I would trade her to the Leafs for their first round pick next year.