http://penguins.nhl.com/club/news.htm?id=684862&cmpid=pit-twt-penguins
http://thehockeywriters.com/pittsburgh-penguins-roster-moves-2013/
On the way down: Andrew Ebbett and Simon Despres were demoted to the Penguins' American Hockey League affiliate in Wilkes-Barre. Forward Beau Bennett was demoted to Wheeling of the ECHL. Derrick Pouliot was returned to his junior team in Portland (WHL).
On the way up: Hard-hitting defenseman Harrison Ruopp was recalled from Wilkes-Barre.
Onto Injured Reserve: Kris Letang (lower body) and Tomas Vokoun (blood clots).
The Salary Cap
So where do the Penguins' stand after the seven roster moves, and how can we tell if LTIR was taken on Vokoun yet or not?
The breakdown below shows Pittsburgh's (likely) cap scenario with cap hits provided by CapGeek.com: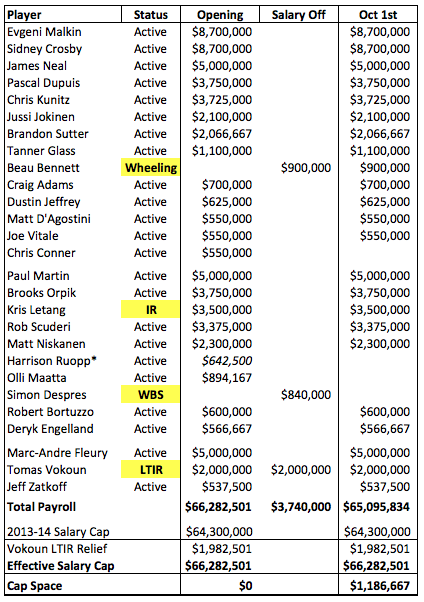 In Scenario 2 of last week's Vokoun article, we described how the Penguins' could aim to get as close to $2 million over the cap through creative reshuffling and designate Vokoun for LTIR on their opening roster in order to get compliant. This seems to be the option the team has chosen.
Recall the equation described above:
LTIR Relief to Exceed the Cap = Player Salary minus Available Space at Time of Designation
LTIR Relief: $2 million – $17,499 = $1,982,501
_______________________________________________________________________________
Fluery better be out of his funk! Hee Hee