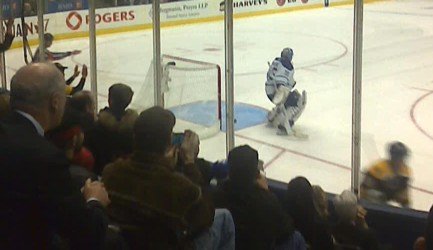 Seguin scores in the shootout. Either I'm too slow or Seguin is to fast. The Gentleman on the extreme left is SuperAgent Don Meehan. We had a nice chat.
The game was horrible. No-one worked up a sweat, save Thomas and Thornton. Still the Bruins could have won. After Campbell's goal, Horton broke in 3 on 1 and had a clear chance at goal but passed off and the play went nowhere.
Seguin with 5 minutes to play was to the left of goal and flicked a bullet to the top corner that missed by an inch over the crossbar and would have come straight to me if there were no glass. Nobody saw the shot coming, not even Giguere.
Ryder's effort on the shootout was a wrist shot along the ice that hit the post squarely.
All in all, little effort by the Bruins and still could have won the game. The Leafs really do have nothing, especially after the Thornton-Rosehill bout, I'm sure the Bruins realized that quickly and thought they could breeze their way through. They almost did.