http://www.boston.com/sports/blogs/obnoxiousbostonfan/2012/03/brady_glasses_celtics_lakers.html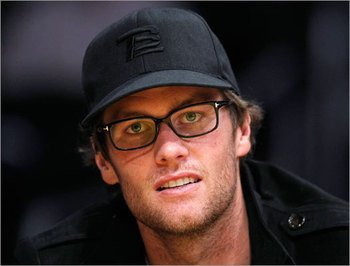 Can't believe the stuff ABC throws out there during the ames to fill time. Yesterday, Brady was in the audience at his geekiest Gisele dressed me like this form even featuring the TB hat knowing full well he would be featured ad nauseaum on camera and even have one or two interviews during the game. I have a feeling he's not even a Celts fan but more there for Kobe Bryant. Least he had enough smarts not to be caught dead with a Faker cap like Lebron James was a few years back when he played In Cleveland. Anyway, Rondo apparently was so interested during the nba lockoout that his peeps called BB and apparently there was some remote interest before RR put an end to it later on.
Ok, I like Rondo but catching the deep ball has proven to be a major challenge in the NBA. He's droppped 2 straight in very crucial games just in the past week. I also do not see him having the temperament to deal with BB or TB. he would be walking out after his first week. he's a total diva. His experience would work out just as it did when he tried out for the US olympic basketball team. Just cracks me up that all these prickly athletes automatically assume that because they are great at one sport that automatically transfers to other sports esp the NFL. Its not just the skillset, its the difference with being hit and having 65 guys to deal with at every practice. They would not just walk in and be the go-to guy regardless of how great they practice. They may get a futures deal and would be on the practice squad first at best. In 2 years, they may get on the field as a 3rd stringer special teamer. In RR's case, he was a great QB in high school and played baseball but this guy has been repeatedly injured and nicked as a pro and does not bring the effort every game.
Anyway, i liked TB's response when they wasted his time with it, he was very dismissive.. i believe this is something that comes up a lot to him from the Lebrons (wanted a tight end tryout, he was a great WR in high school) and others. It must get old quick. If he can't break in a Joey galloway or Ocho, how could it be easier doing so with a guy who hasn't played in 5 or 10 years, has no grasp of pro sets, routine and jargon or hasn't played since high school? How did it work out for Jordan in baseball? Its one thing for a guy to make the leap like a peppers from basketball to the nfl or a steven neal from wrestling directly out of college and make an absolute commitment from the very bottom.