NONE OF THESE ARE VERY REALISITC, but lets pretend they all would work. Which would you go for?
http://espn.go.com/nba/story/_/page/5-on-5-130204/nba-best-deals-top-trade-targets
1. What's the best Kevin Garnett trade the Celtics can make?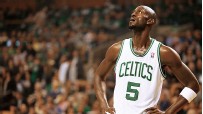 Israel Gutierrez, ESPN.com: Garnett and Fab Melo to Chicago for Joakim Noah and Marco Belinelli. No trade at all is their best bet. The Celtics are unlikely to get anything close to equal value for Garnett, who's so vital to what Boston does and fits in so well with Rajon Rondo. And if there's any indication he won't play out the final two years of his deal, that's even less leverage for the Celtics. But if -- and this is a huge if -- they can get something significant for KG, I'd do this deal.
Andrew Han, ClipperBlog: Garnett, Avery Bradley to the Clippers for Eric Bledsoe, DeAndre Jordan and Trey Thompkins. Garnett's no-trade clause limits the Celtics' options mostly to Los Angeles; he owns a home in Malibu and is godfather to Chauncey Billups' daughter. Boston gets back a coveted player/athlete and turns one of their off-ball guards into a point guard, suddenly a position of need. Add an intriguing prospect in Thompkins and an athletic center in Jordan and the Celtics get young in a hurry.
Curtis Harris, Hardwood Paroxysm: Garnett to the Nuggets for JaVale McGee. Going to Denver keeps KG on a playoff team that needs his defensive prowess in the interior. Meanwhile, Boston would get McGee, who may still blossom into a competent defensive force in his own right. And if it doesn't work, Boston can be woeful, get lottery picks and trade McGee's expiring deal in three seasons for future building blocks.
Sean Highkin, Portland Roundball Soc.: Garnett to the Thunder for Kendrick Perkins, Jeremy Lamb, Perry Jones III and Toronto's lottery-guaranteed first-rounder. Taking back Perkins' contract isn't ideal, but the Celtics load up on cheap, controllable, high-upside rookies and get a pick that could potentially be very high. From the Thunder's perspective, upgrading from Perk to KG would make it hard not to be considered title favorites.
Jack Winter, WarriorsWorld: Garnett and Melo to the Spurs for Kawhi Leonard, Tiago Splitter and Boris Diaw. Leonard is one of the league's true blue-chip prospects, a great athlete with elite defensive potential. Splitter has value, too. A small-picture view like this is against the Spurs' very fabric as an organization, but Garnett and Tim Duncan on the same front line? If there was ever a reason to swing for the fences, this might be it.