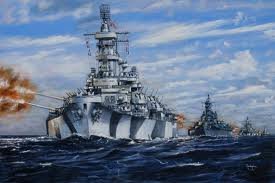 Hi All...this former Marine is on way to see this with a Navy Friend who served on this ship and promised to give me a personal tour. Will be back to watch Sox game & then the Celtics and also Lakers to root against them, of course !!! Won't be able to come in my uniform as it says below as it's 50+ years old. Only thing that fits is my cap(Marines call it a cover). Love the patriotic BIG Band music too and the Andrew Sisters !!!
USS IOWA Farewell Celebration
Featuring
The Big Band of Rossmoor
Farewell Musical Tribute to the USS Iowa
with
The Blue Stars
Sunday, April 29, 2012 - 10 a.m. to 4:00 p.m.
Point Richmond, CA
1411 Harbour Way South, Pier 3, Richmond, CA
Send off one of the most powerful warships of all time - the super-battleship USS IOWA BB61! Come bid farewell to IOWA, enjoy the music, see the shore-side displays and military vehicles, enjoy the "steel-beach BBQ" -- be a part of history!
From noon to 4 p.m., enjoy the sounds of the '40s, '50s, and modern times, as the 31-member Big Band of Rossmoor performs and honors "The Battleship of Presidents" and the veterans of WWII to the present.
This is the last time you will be able to see or visit a real battleship in San Francisco Bay. As lead ship of the U.S. Navy's mightiest WWII super-battleships, USS IOWA will soon journey to Port of Los Angeles to become a floating educational museum destination.
The 31-member Big Band of Rossmoor, composed of musicians ranging in age from 14 to 92, many of whom are WWII veterans, will be joined by the fabulous Blue Stars, a talented trio of women singers who will take you back to 1943 and the Andrews Sisters.
Reach back to a time when a USO show came to your ship or camp - the country was "In the Mood." From Glenn Miller and Harry James to Broadway show tunes, swing to the music that made history. If you enjoy Big Band music, don't miss this unique, once-in-a-lifetime event!
All veterans are welcome in or out of uniform. Army, Navy, Marines, Coast Guard, Air Force and nurses are welcome - come in your uniform if you can!
Entrance donation: $10 adults, $5 children 12 years or older, children 11 and under free.