I think I have been the only one saying this for quite a while.
Finally, someone agrees with me and wrote an article about how over-rated the 2012 draft class is.
http://insider.espn.go.com/nba/blog/_/name/nba_draft/id/7610521/nba-draft-supposedly-stellar-prospect-crop-looks-bust
What happened to the 'great' 2012 draft?
February, 24, 2012
Feb 24
9:39
AM ET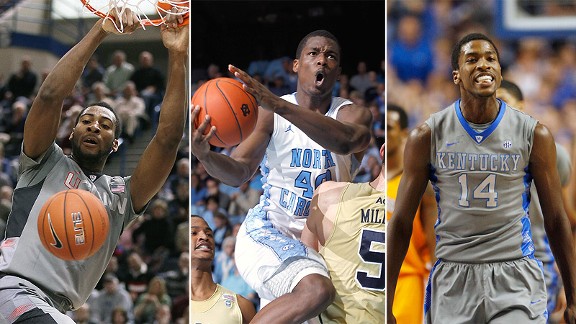 Getty Images, US PresswireFabulous freshmen and returning stars should have made the 2012 draft great. What happened?
In July, NBA scouts and executives were projecting the 2012 NBA draft to be one of the best in a decade.
With a potential lockout and other factors in play, an unusually high number of prominent college players passed on their opportunities to jump to the NBA in 2011. North Carolina's Harrison Barnes, Baylor's Perry Jones, Kansas' Thomas Robinson, Ohio State's Jared Sullinger, Kentucky's Terrence Jones, Florida's Patric Young, UConn's Jeremy Lamb, North Carolina's John Henson, Duke's Mason Plumlee and UNC's Tyler Zeller all were considered potential lottery picks in 2011. Another year in school was supposed to give them even more appeal.
We were also projecting as many as 10 freshmen as potential lottery picks: Kentucky's Anthony Davis, UConn's Andre Drummond, Kentucky's Michael Kidd-Gilchrist, Baylor's Quincy Miller, Florida's Bradley Beal, North Carolina's James Michael McAdoo, Duke's Austin Rivers, Kentucky's Marquis Teague, Texas' Myck Kabongo and Memphis' Adonis Thomas.
That's 20 players for 14 lottery spots. That's what you call a stacked draft.
But as we enter the last week of February, NBA executives are rushing to downgrade the draft.
"Everyone talks about how great this draft is," one NBA GM told ESPN.com. "On paper in July, it really looked that way. On the ground in February, I'm not that impressed. Anthony Davis is great. But after that, there are a lot of question marks and a surprising lack of depth. I'm not sure that the 2012 draft will be better than the 2011 one."
What's causing the pessimism?
Davis has lived up to, and perhaps even surpassed, expectations. But most of the rest of the crop of returning players and freshmen haven't measured up.
Barnes has shown he's a lethal scorer -- but a one-dimensional one who doesn't seem to make anyone around him better. Perry Jones has reverted back to his wallflower ways. Terrence Jones, despite the talent, is still maddeningly inconsistent. Sullinger is effective, but seems to have hit his ceiling as a freshman. Henson is still a defensive force, but the offense is a work in progress. Ditto for Plumlee and Young. Lamb seems too laid-back to really carry a team the way his former teammate Kemba Walker did last season.
Of the returning collegians, only three -- Robinson, Zeller and Damian Lillard -- have lived up to or exceeded expectations. Robinson's toughness and athleticism should make him a staple in the league for a decade. Zeller will start somewhere thanks to his ability to run the floor like a guard. Lillard is the draft's biggest sleeper, but has been consistently better every season.
The same problems are found throughout the freshman class. Andre Drummond may have the physical tools of Amare Stoudemire -- but he doesn't play like him. Drummond can look awesome in one game and completely disappear in the next.
Miller has had his moments, but seems like he's still not fully recovered from ACL surgery last year. Beal looked like the next Ray Allen or Eric Gordon in high school, but hasn't quite lived up to the hype on a Florida team that often asks him to play out of position. Rivers has hit some big shots, but he doesn't look like the dominant player he was in high school. McAdoo has been regulated to bench duty and hasn't the super sub we thought he'd be. Teague and Kabongo have had some success, but both look a long ways away from being an NBA point guard. Thomas struggled out of the gate before a season-ending injury struck.
Really, just two freshmen, Kidd-Gilchrist and Indiana's Cody Zeller, have exceeded expectations. We had Kidd-Gilchrist ranked No. 3 on our Big Board in July, so it's a bit of stretch to say he's exceeded expectations. But the truth is that Kidd-Gilchrist has lived up to all the hype about his motor and toughness while showing a better offensive game than he did in high school.
We thought Zeller wasn't a serious one-and-done prospect, but next to Davis, he's been the second most efficient freshman in college basketball and has turned around the Hoosiers' program. He's now a legitimate lottery pick.
So sure, if everyone lived up to the hype, this could've been one of the best drafts ever. Instead we're left with one sure thing in Davis. Barnes will be a great scorer in the league -- but will he ever be any better than Danny Granger? Most teams are looking for more with the No. 2 pick in a great draft. Coaches will fall in love with Kidd-Gilchrist, but unless he develops a very consistent game from beyond the arc, his upside looks to be on par with a Gerald Wallace. Drummond has the tools of Stoudemire, but he could also bust out of the league in a few years. Beal is the one guy that's probably underrated right now.
After those five, the talent downgrades to good starter and then, after the 10th or 11th pick, to solid rotation player.
Good draft? Sure. Great draft? Hardly.