Rumor is that Danny is intent on getting a 2nd round pick in order to draft this guy ahead of Orlando ....
#Celtics also interested in acquiring a 2nd rd pick. Target teams are #Cavaliers, #Blazers and #Hawks. Twitter @SherrodbCSN
http://www.rantsports.com/nba/2013/04/22/boston-celtics-draft-prospects-phil-pressey/
http://www.draftexpress.com/profile/Phil-Pressey-6225/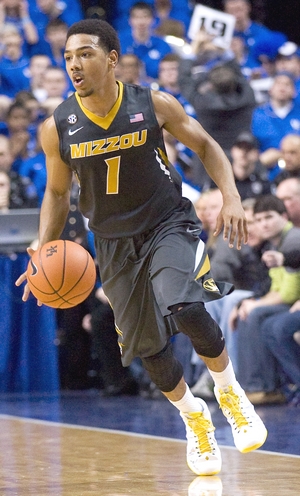 http://www.orlandopinstripedpost.com/2013/6/25/4463946/2013-nba-mock-draft-magic-victor-oladipo-phil-pressey
Ford says Orlando's picks could be Indiana Hoosiers shooting guard Victor Oladipo at no. 2 and Missouri Tigers point guard Phil Pressey at no. 51.
Pressey could be a "consolation prize" for the Magic in the second round after not getting a point guard in the first round, according to Ford. The Dallas native averaged 9.7 points, three rebounds, 5.9 assists, and two steals across his three seasons at Mizzou, and Ford says "he sees the floor as well as any guard in the draft."
Pressey doesn't show up on too many mock draft boards but if Ford is right about Orlando, Danny will need to find a 2nd round pick ahead of Orlando before the evening is over.