http://bleacherreport.com/articles/425109-2010-nfl-forecast-10-reasons-why-new-england-wins-the-afc-east?utm_source=newsletter
2010 NFL Forecast: 10 Reasons Why New England Wins the AFC East
310 reads
1 comments
1 like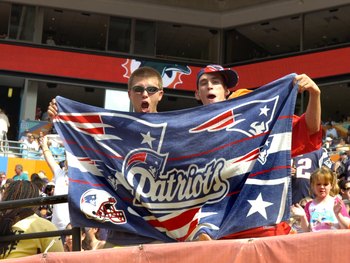 What has two thumbs and believes the Patriots are still the team to beat in the AFC East? This guy.
It's not as though it's a stretch. They won it last year despite it being Tom Brady's first year post-injury, and lest we forget, everyone's favorite team in the division needed two late-season gifts to make the playoffs.
The Jets added some talent, but it's more overhyped than the Twilight series and about as combustible as nitroglycerin.
The Dolphins finally, finally have a franchise wide receiver. Unfortunately, while their secondary looks promising, the rest of that defense has many more questions than answers with the departures of Joey Porter and Jason Taylor.
The Bills, well, despite having a roster with more holes than a block of Swiss cheese, used their ninth overall pick on C.J. Spiller. I guess they figured since Al Davis actually had his head screwed on right for one draft, someone should make the obligatory bonehead pick early.
Meanwhile, the Patriots added another solid if not spectacular draft class and look to be in prime shape to repeat as division champs.
I've kept you waiting long enough—on with the show!
10. Addition by Subtraction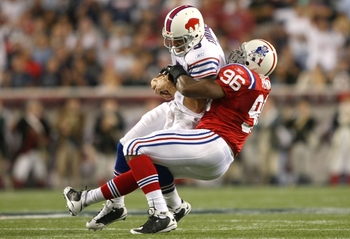 If you'll look closely at the picture, you'll see free agent flameout Adalius Thomas recording one of his three sacks during his time in New England.
While I'm obviously exaggerating (most likely due to bitterness), it's no stretch to say he was one of the biggest free agent busts of the decade.
His negativity and open feud with head coach Bill Belichick was as blatant a distraction as you'll find in an NFL locker room. Hopefully he's sitting home and realizing how culpable he was in the whole fiasco, since he still hasn't found any suitors for his eroding skill set.
It doesn't start and stop with him, however, as I was less then thrilled with Shawn Springs as well. He never really fit that well on the defense, and given the way the season turned out, I think they would have been better served letting the youngsters play.
What really turned me off about Springs (and I apologize for not remembering specifics) was that after a tough loss he was caught laughing and clowning around in the New England locker room. So much for veteran leadership, and I blame those around him as well for not checking him in regards to his antics.
They've also had a full offseason to get over the Richard Seymour trade and any lingering effects that may have had. The Pats seem to have learned from the failed Joey Galloway experiment as well, as the veteran (Torry Holt) they brought in this year is more than a one-trick pony.
Now if we can just get rid of this Logan Mankins character...
9. The Schemes Can't Be Worse Than in '09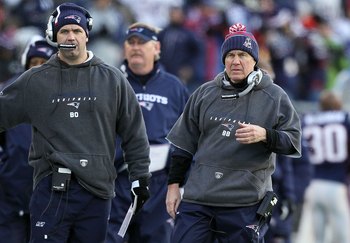 I've already written at some length about how Bill O'Brien has essentially nowhere to go but up as far as game-planning goes. While the overall offensive numbers look fine, his offense was too dependent upon the shotgun as well as being too predictable overall.
It's very easy to forget that he was in his rookie season as offensive coordinator last year. It's also easy to overlook that "boy genius" Josh McDaniels struggled in his first campaign as the offensive strategist.
I was astounded to recently read that the Patriots were one of the most blitz-happy teams last year, at somewhere around 40 percent of the time. You sure wouldn't know it from the comfort level achieved by most opposing quarterbacks. Equally horrific was their inability to stop the run in key situations.
Out with Dean Pees, in with Bill Belichick. That can only be a positive for a young defense searching for an identity. It should also work out well for Bill, in that if he's got far more athletic defenders then he's had in years.
Given that they've made it a priority to draft intelligent, lead by example types, especially on that side of the ball, he'll have all kinds of flexibility. Look for Bill to get back to his roots this year and reclaim the "genius" label from pundits and fans alike.
8. The Brutal New York Media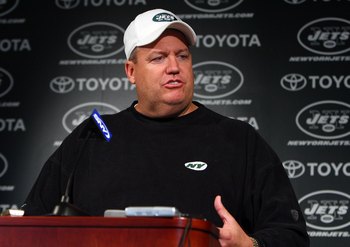 Everything is peaches and cream in the city that never sleeps. The Jets have assembled a collection of has-beens, outcasts, and miscreants to couple with their admittedly high-end core group of guys.
You'd think their championship window was on the verge of closing instead of just beginning to open, what with the way the Jets gambled on their team's roster and chemistry.
Their potential for locker room conflict and outright disarray far outweighs what happened to the Pats last season, and that much smaller center of conflicts was painful to watch.
All it will take is a few consecutive losses or an off-the-field indiscretion for the media to start harping on players and coaches, and for the players to begin to question one another as well as their place in the scheme of things.
The notorious New York media will play a role in the downfall of one of the Patriots' biggest adversaries. Oh sweet irony.
7. Revamped Leadership Structure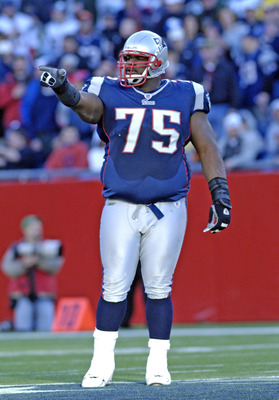 One thing that was apparent last year following the loss of many defensive stalwarts for New England was the lack of leadership.
To a slight degree it carried over to the offense, but especially on defense the lack of a player who demanded accountability was glaringly obvious.
There are several veterans whom I'm expecting big things from in this department, one of them being Vince Wilfork. I'm sure being mired in a contract dispute weighs on a person, but now that he's got his long-term security, he'll be making sure everyone pulls his weight.
Ditto for Leigh Bodden, who is bound to be more comfortable in his second year with the team. A big, physical corner who's vastly underrated by the national sports media, he'll be a good mentor for all the youth in the secondary.
In addition to the other assorted veterans who are likely to assert themselves after last year's debacle, the Patriots put an emphasis on character and leadership in this draft. Were you aware that at least five of their draftees were team captains in college, including their Michigan punting prospect (Zoltan Mesko)?
All in all, this mix of veterans and youth has a good feel to it, especially for a team looking to recapture the "Patriot way."
6. Reduced Expectations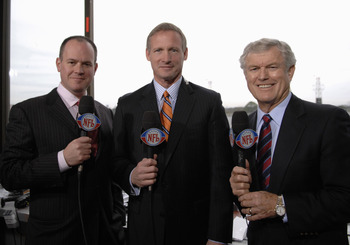 The Patriots begin the season on the opposite end of the spectrum from the Jets. While anything less than a Super Bowl is likely to be a failed season by the Jets, it's become fashionable to write off the Patriots if you have a venue from which to do it.
This works in the Pats' favor on any number of fronts: They can suffer a loss or two without the media smelling blood in the water, teams foolish enough to believe in their demise may take them less seriously, the Patriots' coaching staff can take some on-field gambles without worrying about winding up on the hot seat, etc.
While the way the Patriots ended their season shouldn't inspire overconfidence, neither is it the end of the world. They simply had their worst defensive game of the season at the worst possible time. It certainly wasn't definitive of the staff, players, or franchise in any way.
With Brady being in his first year back from his injury, a defense overflowing with youth and newcomers, and a receiving corps lacking anything resembling depth, I don't know what else could have been expected. Those are all problems that would appear to be non-issues this season, and as such expect better than what you're being told to.
5. Special Teams Has a Chance to Fit the Billing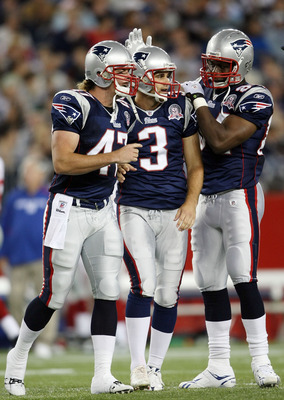 Other than always having a phenom for a placekicker, the Pats' special teams are typically a steady, absolutely unspectacular bunch.
Much like my buddy's 1992 Ford F150, they're enough to get the job done as well as anything else while lacking style, flash, or anything approaching upside.
Enter 2010, where opposing teams will learn to not "mess with the Zoltan." I love the pick, as any punter special enough to be voted a team captain in college must be doing something right. Provided he can handle the pressure, he should prove to be a big upgrade over Chris Hanson.
Jake Ingram was a solid long snapper as a rookie in '09; laugh all you want, but if you've ever watched a team play without its long snapper, you know it's a valuable position.
While I don't believe the position has been decided yet, it's my hope we'll see Brandon Tate as our return man. He was dynamic back there in college, and having someone with the upside to be a poor man's Josh Cribbs is certainly an exciting prospect.
All of the youth and athleticism being injected across the board bodes well for the coverage units, while perhaps leading to the release of one of my least favorite Patriots (Matt Slater). That's a good thing in my eyes, while the prospects for the third phase of the game should look good to any and all Patriots fans.
4. Miami Becomes Cincinnati South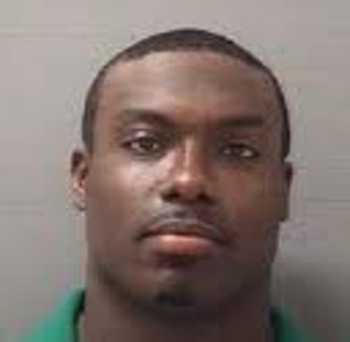 With four arrests this offseason, Miami has certainly started questioning the character of its players. I haven't heard about any suspensions, although Phillip Merling got a dose of karma when tearing his Achilles tendon.
(If you haven't heard, Merling, a beast who goes 6'4", 295 pounds, was in trouble for punching his pregnant girlfriend in the face. Yup, pretty nauseating.)
What makes it worse is that the players in question aren't fringe guys by any stretch of the imagination. You've got Merling, DL Tony McDaniel, RB Ronnie Brown, and CB Will Allen. In case you're keeping score, after Merling it's 1. misdemeanor domestic battery, 2. DUI, and 3. DUI.
Haven't these guys learned anything from the horrific instances of Donte' Stallworth and Leonard Little?
In addition to filling the police blotter, Miami has some questions on the field as well. I'd list pass rush as their biggest potential hurdle, and while some may accuse me of being the pot calling the kettle black, at least the Patriots have a few proven options.
Barring suspension, these problems aren't likely to affect the regular season all that much, at least outside the locker room. But who's to say some players aren't questioning others' commitment to the team? If the indiscretions continue into the season, there could be cause for concern in Miami.
3. The Patriots Finally Boast Some Matchup Nightmares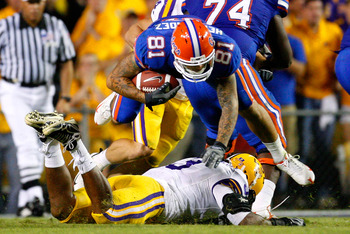 I'm as excited about the offensive youth on the Patriots as I've been in quite a while.
Yes, Ben Watson was faster than most tight ends and as such a default mismatch when going against a linebacker. However, his inconsistent hands didn't allow him to capitalize on his speed.
Tight end should finally once again be a featured position in the New England offense, and rightfully so. In addition to steady vet Alge Crumpler, the Pats added a couple of rookies that have fans pumped up.
On one hand, you've got Rob Gronkowski. At 6'6", 265 pounds with above-average playing speed, he's the future of the position in New England. A solid blocker with soft hands, guys like him define "prototype tight end." For those of us who have always wanted to have a Jason Witten/Heath Miller type, our prayers have been answered.
Aaron Hernandez may be the guy who steals the limelight early on in spite of all of Gronk's assets.
Described by some as similar to Dallas Clark, that may be laying it on just a tad thick. However, he does boast almost a carbon copy of his skill set. Great speed allows him to split out wide, and he's versatile enough to rotate in and out of the backfield.
Provided he can overcome some off-the-field controversy (marijuana use in college), he'll likely provide the greatest return from the position while Crumpler and Gronkowski joust for the reps playing snug against the tackle.
Taylor Price has speed to spare, the kind of which pretty much guarantees he'll see the field at times in almost every game. If he can translate his game to the NFL level, whoever is working the middle of the field is all but assured of one-on-one coverage while he and Randy Moss fly deep.
Julian Edelman is Wes Welker-lite, and he absolutely shattered expectations as a rookie last season. The converted college quarterback was one of the most exciting surprises at any position and should be exponentially better in year two.
While Brandon Tate is a little bit more conventional in terms of all-around talent, his lack of playing time last season makes him an unknown to Patriots foes this upcoming season.
It's become something of a trend that the best teams in the league usually boast at least one offensive 'tweener, a guy who puts pressure on the defense to account for him in unconventional ways. The Patriots could potentially have several, which bodes well for their diversity this season.
2. Potential Contract Year Explosions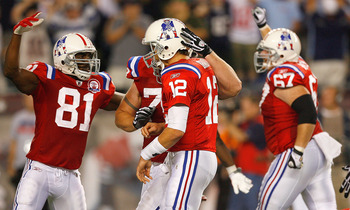 I'm not going to delve into Tom's situation too deeply, because when it comes to the Patriots, there's Mr. Brady and then there's everyone else.
However, there are a couple of other veteran presences out to earn a new payday, and as such we should be seeing them leave it all out on the field.
Laurence Maroney is not one of my favorite Patriots. I've gone on at some length about his hesitancy when hitting the hole, fumbling issues, and all-around inconsistencies. That being said, if ever there was a year tailor-made for him to succeed, it would be 2010.
He'll be auditioning to show he's a starting back in the league regardless of where he winds up. It's his last chance to show the New England fans who've been so hard on him that he's not a bust. On a team likely to feature the ground game more in an effort to be less predictable, it's all come together in one final run (pun intended) for Maroney.
It's not an exaggeration to say this season will make or break his career.
Randy Moss has already gone on record as saying he doesn't think the Patriots will reinvest in him. With Mankins' situation degenerating like it has, I'm hoping that's not the case, but that is neither here nor there.
He's much more of a known commodity than Maroney. It's fascinating that in the first year his effort has ever been questioned in New England, he still tied for the league lead in touchdowns. He added almost 1,300 yards to go with the 13 touchdowns and did it all despite playing most of the year with a separated shoulder.
He's smart enough to know he's playing for his last high-dollar payday, regardless of who it comes from. I would be shocked at anything less than 1,350 yards and 15 or so touchdowns provided he can stay healthy this year.
If Maroney can hold up his end of the deal, we could be looking at an offense every bit as exciting as 2007, if not as record-shattering.
1. Tom Brady Will Once Again Be...Well, Tom Brady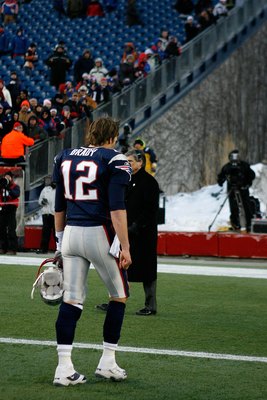 Don't believe the hype—Tom Brady is still the quintessential franchise quarterback.
You'd think because he had a subpar year coming back from a crucial knee injury that he was washed up.
If you believed everything written, you'd also think he's become a holdout risk, a Hollywood diva, and apparently a bad human being for loving his children.
Word today on Mike and Mike on ESPN is that contract talks are making some headway between Tom and the Pats. Um, don't know anyone who doubted it would happen. That whole angle has been created to get hits/reads/viewers, and it just shows how much you have to be willing to form your own opinion rather than buy into everything you're fed.
He's got the terrible taste of last year's playoff loss to wash away. He's got people questioning his heart, his skills, whether or not he still has the "it" factor that made Tom Brady TOM BRADY.
Historically in sports, when the great ones get questioned, they respond on their field of play, and in such a manner as to have you wondering how you could have doubted them.
Prepare for Tom to be the most focused you've seen him since 2007. He and Bill will resume their position as top coach and quarterback combo in the NFL. Winning the AFC East will be the first stepping-stone in what promises to be a nor'easter of a football team set to storm through the entire league.