In response to mbeaulieu07's comment:

In response to seattlepat70's comment:
In response to jjdbrasil's comment:
By Michael Schottey (NFL National Lead Writer) on April 5, 2013
This Could Be an All-Time Great Undrafted Free Agency Class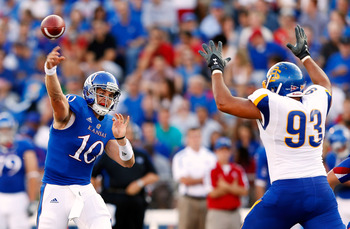 Jamie Squire/Getty Images
Speaking of guys that may or may not be drafted...
Meet Dayne Crist—the former Notre Dame-turned-Kansas quarterback. He passes the eyeball test with flying colors and has more than enough arm strength to make every NFL throw. In talking with football minds that I trust, I got the impression that Crist has the ability to start in the NFL if he lands in a spot with a coach who can fix some of his erratic throws.
Crist doesn't project to be drafted, but you'll probably hear news about his signing about two minutes after the last pick. He could end up as a team's No. 2 QB right away.
Other guys could end up coming in after the draft and playing big roles for their new teams—Jack Doyle (TE, Western Kentucky), Tanner Hawkinson (OT, Kansas), Craig Roh (DE, Michigan), Zeke Motta (S, Notre Dame), Levine Toilolo (TE, Stanford), Mike Catapano (DE, Princeton), Sam McGuffie (RB/WR, Rice) and so many more.


Wow... Motta is projecting UDFA now? Even Toilolo surprises me if undrafted


Motta's slow 40 times didn't help, though I think he plays faster than he times... tough/instinctive kid, very good triangle #'s, solid tackler and really throws his body around... I still think he's a Day 3 pick... I'd be all over Toilolo with one of the 7th rounders if he drops... talk about a redzone threat!
Yeah Toilolo has been in all of my mocks as a UDFA, perviously i had him as a 5th round pick but for some reason his stock dropped. The guy is 6'8" 4.86 40 time is a bit slow though. "Strengths
Toilolo has a massive frame. Good leaping ability, very difficult to defend in the end zone. Excels in the intermediate and deep game. Extends to catch the football. Has good acceleration. Coordinated enough to line up in the slot or outside in order to take advantage of mismatches. Comes off the line with little wasted motion. Good hip flexibility, and nimble feet.
Weaknesses
Extremely inconsistent. Will not always fully extend to make the catch. Slow with his hands as a blocker, and plays too high. Defenders can get into his chest and move him backwards. Routes can be a bit leggy, struggles in the short passing game. Can be effected by jams at the line.
Bottom Line
Toilolo has a massive frame to combine with good athleticism and leaping ability. He needs to clean up his inconsistencies by fine tuning his technique, but he does have starter upside. At the very least, he will be an interesting weapon to use in the red zone."