With almost two weeks to kill before a Super Bowl I don't really care about, once again it's that time of year when we take a look back to theorize, scrutinize, patronize and recognize the inane, the mundane, the profane and the insane (on Soul Train) … yes, ladies and gentlemen and boys and girls, it's the 2010 Postie Awards (accept no substitute) . . .

an arbitrary reconsideration of some of the best (and worst) moments on the BDC Patriots forum in the preceding year.


Let's get to it, shall we?


The inaugural "Huh?" Award goes to Soxfan33928 who summed up the Pats' draft in April thusly, "They may not look pretty in shorts, but they look like Victoria Secret models during games." All together now

. . .

Huh? This nonsensical post set the tone for what would turn out to be a season of wild mood swings among Patriot Nation, but was perhaps best summed up early by a Jests fan . . .


The "Board in a Nutshell" Award goes to Green New Jersey Troll Bjesuss, who is probably still here under one guise or another, and summed up the entire board succinctly when he posted (inadvertently, we assume) in May, in a thread about off-season moves, "This all doesn't sense." No, B . . .

indeed, it does not.


The "Do as I Say, Not as I Do" Award goes to MvpKilla for this early-season witticism: " . . . name calling, which is exactly what underdogggg (UD6) was doing, is POINTLESS -- that is what I was saying -- not 'agree with me or die' you d*ck." We're just guessing here, but the selection committee believes the disguised word is neither duck, deck nor dock.


The "Tell us how you really feel" Award goes to occasional visitor

frankn, who was quite clear when he said:
"I'd rather cheer on Dick Cheney having sex than root for one second for those scummy Jets!!" Who wouldn't, frank? Who wouldn't?
The "Curly-Haired Boyfriend Dart Board" Award goes to Evil2010, who took Shaughnessy-bashing to a whole 'nother level when he said:
"Dan has jumped off and on the Pats bandwagon so many times I'm surprised his knees can take the punishment. His agent should get him a sneaker endorsement. Air Shaungessys

(sic) the chosen foot ware (sic) of bandwagon leapers." We realize the columnist's job is to offer his opinion, not analysis, but it would be nice if Dan actually held one for more than a few minutes at a time.


The "Because It's My Show" Award goes to ATJ, for no better reason than he was willing to describe (particular) teams blaming injuries for their lack of success as "pluperfect horsesh*t." Keep up the good work A.


The "Apropos of Nothing" Award goes to Muzwell, for

reasons that should be obvious. "I can only speak for myself, but I've always been very aware of breasts. At least since about fifth grade." (honorable mention in this category goes to The-Artist-Formerly-Known-As-Nick, who, in describing a couple of women who pissed him off at Gillette one day said, "Personally, I wouldn't mind if they got breast cancer." It should be noted that, while we on the selection committee believe that it is never a bad time to discuss breasts, these thoughts were posted in a thread about the "pinking" of the NFL in October for Breast Cancer Awareness Month.


The "Any Fonz Reference is a Good Fonz Reference" Award goes to CablesWyndBairn, who likened Tony Dungy admitting that the Pats were clearly the best team in the league after their win over the Colts to everybody's favorite greaser, Arthur Fonzarelli saying he was " wr...wrrr...wrrr...wrong." Eyyyyyyyyyyyyyyyy!

Food for thought: Does the Canadian Fonz go "Eyyyyyy, eh?"

The "You Heard What I Said" Award goes to themightypatriots, who, on a night in which both Eli and Peyton Manning cost their teams potential comeback victories with bonehead turnovers very late in the game, in a discussion of which was worse, said: "I liked Manning's choke better." We all did, mighty. We all did.


The "Oh, No He Didn't" Award (and a hearty chuckle) goes to IraqSteve who, in a thread discussing Richard Seymour punching Ben Roethlisberger in the face said, "I think he asked Seymour for his daughter's phone number..."

Nice.


The "Here Comes Kool-Ade" Award goes to BubbainHawaii, who was called out by the once and future Russ Griswald for daring to question the wisdom of the great god, Belichick,, to which Bubba replied. "Trust me, BB is not going to leave his girlfriend for you." Well . . .

we certainly hope not, Bubba. Heaven forfend.


In the deeply-coveted "I Wish I Had Said That" category, repeat offender CablesWyndBairn responded to a post by patsfansince1966, defending the right of black journalists to play the race card with "I'm still flogging myself for the Inquisition, I just can't move past it." I wish I had said that.


The "Isn't it Ironic" award is being coupled with a supplemental "Huh?" Award, this year, and both go to the elusive Jaycee1m for

. . . Well . . .

for this . . .

unedited and in its entirety: "No such word as "disrespecting" Yes, it has become popular mis use by a small percentage of Americans, such as aint, double negatives, and other aledged words, commonly used by the minority uneducated ( many by choice ). So if you do not want to be lumped in with that crowd, think, before you speak, and make it correct use of the English language" The committee believes it speaks for most forum members when it asks, once again . . . "Huh?"


In a stunning upset, the "Please Seek Help" Award goes to Patsfansince1966 – who outdistanced early-season favorite, Sybil, by opining (among a wide range of other ridiculous notions) that "A true weirdo is a person that says that not all whites are racist." Just for future reference, '66, ingesting an inordinate amount of hallucinogens does not earn you a "PhD in chemistry."


The Mighty Patriots Award goes (naturally) to themightypatriots, who responded to a thread asking what Green New Jersey would do differently in the Dec. rematch said, "The Jets will eat sh*t and die." Which, of course, they did.


The "Truth in Advertising" Award goes to chrisakawoody, for the following post, that should be self-explanatory. "Sure, the slide of the Colts and Manning this year is an intriguing story (which I predicted last summer...but, then again, I also predicted the Pats would struggle to go 9-7) . . ." Those who like to predict everything but only remind us of some things could take a lesson from woody.


The "I'm Rubber, You're Rubber" Award goes to qball369, for making the selection committee giggle audibly in yet another of Underdog(gggggg) and TexasPats' endless Spygate debates when he suggested UD6's time might be better spent on a Colts forum, where he and his brethren could "take turns pasting Peter Kings columns about how awesome Peyton Manning is and then fall all over yourselves drooling with naked idolization of his greatness." It was that phrase, " drooling with naked idolization" that sealed the victory for qball in this category.


The inaugural Photoshop Award (there's no joke here, kids) goes, naturally, to BradyMossFan, just for general outstanding work in the field of making funny pictures . . .

but especially for this shot of Dan Connolly taking care of his bear.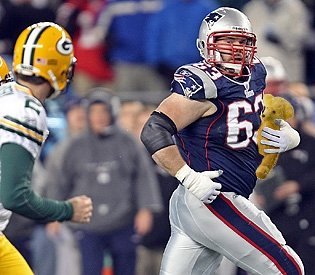 The "Seriously, Please Seek Help" Award (Redux) goes to to the late, unlamented knightsailor, who tried harder than almost anyone on the board to draw attention to himself with his incessant Brady-bashing, finally broke through with "If I had his money I could free hundreds of thousands of sex slave children with a small percentage of my net worth." But who would free you, knightsailor . . .

who would free you?

Alert visitors will also remember that knightsailor was summarily banned not long after this post appeared . . .

and even more alert visitors know he's not really gone.


The "Let Me Be Clear" Award goes to Davedsone, who made himself understood succinctly by describing sportzbozo1 as "like five losers stapled together" in a thread questioning the usefulness of essential red-shirt rookie receiver Taylor Price. The selection committee is generally against what Jim Rome would describe as "clone-on-clone" crime, but funny is funny.


The "You Walked Right Into That Onel" Award goes to MarkW1, who responded "He has the same name as your favorite porn star?" When Chasa B started a thread about his "favorite thing about Danny Woodhead."


The "I Know You Are, But What Am I" Award goes to prolate0spheroid for referring to Peyton Manning as "Mr. Pouty Face Goober Head" in the Archie Manning thread (which, of course, was only peripherally about Archie). Sometimes you've just got to channel that inner-child.


The "Language is Your Friend" Award goes to Sam-Adams, who described Baltimore's uninspired play against the generally inept Cincy Bungles in week 17 as "buffoonacy." Honorable mention was seriously considered in this category for the wonderfully incongruent phrase, "societally progressing their status," from the minority coaching hires thread – but the selection committee doesn't like to encourage Sybil.


The "Truth Shall Set You Free" Award goes to agcsbill, who, when asked if Rex Ryan would shut up for even one second during the two-week Super Bowl run-up, should New Jersey achieve such an absurd (for them) goal said: "We'll never know, will we?"
Surely not in this lifetime, bill.

The "Christmas in January" Award goes to justme2, who offered this advice as New Jersey

prepared for its divisional-round dance with New England: "I would suggest (if they haven't all ready) that the jets all meet and write letters to Santa Claus asking for the 85 Bears defense … " The Pats subsequent tank job in the rubber match does not make this post any less funny.


The "Clarity of Thought" Award goes to apdynasty, who summed up the realistic threat of New Jersey's trash-talkers succinctly when he said, "Antonio Cromartie couldn't play dead in a Western." (see above for disclaimer).


The "Ironic Irony" Award goes to something called Cloudyandrain, who was another of our brand new posters who magically showed up on January 17 to offer his two cents before disappearing from our lives forever. His contribution to the board

was an admonition not to respond to trolls, which he displayed by promptly engaging another one-day wonder from Greater New Jersey in an argument about grammatically correct structure, of all things. I think this post pretty much speaks for itself:

"Also, you can't use a conjunction as the first word of a sentence because it fuction to be conjointing two sentences.Your grammar is patheic. Get a life." Ouch!
And lastly, as many of you know, being on the selection committee prohibits prairiemike from being eligible for any and all Postie Awards, but the positive reaction to the following -- on Thanksgiving, I might add -- was so overwhelming (meaning that somebody actually mentioned it), that the other member of the committee (my dog, Ted) has seen fit to offer honorable mention in the "You Can't Kill Funny" category to the following entry, which answered the question, posted by something called ColtsMan73 during the Pats-Lions game on Turkey Day: How many bail out bullsh*t calls are the Cheatriots going to get? To which, p-mike responded:
"They're going to get as many as it takes until your head explodes -- at which point all the homeless of Indianapolis will have soup for at least one day."
That's it.
Self-aggrandizing moment over.
You may now go back to whatever it was you were doing.

And here's looking foward to an even more amusing 2011.



Please remember to tip your bartenders and waitresses.