The game has slowed down considerably for the Tennessee Titans. All they have is a running game anyways.
Their home field is the perfect depth and shape for a water polo match, with excellent seating all around. Parking around the outside of the stadium is a bit of a problem, though.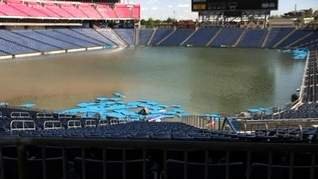 http://www.tennessean.com/article/20100503/SPORTS01/100503070/2196/SPORTS
Seriously, my heart goes out to some people who are trapped on their house roofs. We only got 8 inches up here. They took 13 inches of rain.