In response to ghostofjri37's comment:

In response to BabeParilli's comment:
Yeah, because the pre-season is an indicator of anything. LMAO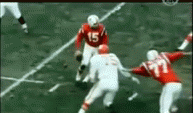 Sorry going to disagree if wasn't for pre-season and training camp where a #4 QB got to show his abilities and work ethic this franchise wouldn't be loking at a 1st ballot HOF QB.
I didn't mention training camp.