NOTE : Oldr post ( Fri practice )
...just updated it with a few pics to illustrate points
OK
Finally got out to a practice this season .
Heres my randem thoughts .
If your going to make the effort to go -Get there at least 45 mins early to stake out a good spot - the dif between being there 45 or 5 mins early is COUGHLIN-ESQUE .
( I usually prefer back row of bleachers - you get to alternate sitting /standing w/o blocking view of others and its also the best vantage point for taking pix )
On sight Pro -Shop Tent seems to be heavily discounting their wears this year - I saw a polo shirt wth an embroider'd Pat Patriot going for $10
( the same shirt inside they would have gouged u for @ $55 )
BRING H2O
If you want to
Get into the action
- Set up on the hill directly behind the goalposts.
Ghost usually ends practice booting FGs ( no net ) and fans are allowed to snag 'em ( catch n release tho )
I thought it was unusual BB strolled out so late ... my first inclination was that he was busy workin the phones / dealin' up until the very last second.
( Predictably - there was some unrecognizable #95 out there ... turned out to be Mark Anderson ... unimpressive in tacklin drills but who knows? )
O-LINE
Dante Scarnechia seemed a bit reserved today ( for him )
He spent a lot of the practice instructing Solder and at end of day called entire troop over for prolonged verbal instruction.
O-line looks surprisingly clean shaven ( usually mounds of scruff even early in camp )
Pack of massive white guys ...wonder why its one of the only positions where caucasions still excell ? ( that and posession / slot receiver , lol )
German and Polish ancestry seems to be a common thread too ....juz sayin.
RB's
Rb coach Ivan Fears ( nice dude ) has a good assistant in Sammy Morris who seemed to give as much instruction to the rookie Ridley as the coach , which along with being a STs ace is probably why Sammys back. Ridley looked ok ...not especially outstanding at any one thing (Seemed a bit smaller than I had expected -even standing next to Woodhead - who appeared to be far and away the quickest and most game game-ready of the lot ) Never realised just how thick Woodheads legs are - they are like mini Linemans legs ( I exagerate ... but not by much ) His height , or lack of , is amazing tho... During a drill where the Rbs face the goaline than ubruptly turn around to catch a quick pass aimed at their facemask . Woodhead was the last to go and Fears fired the ball in his normal trajectory - but it sailed
above
Woodheads head and all the rb could do is flair at it ( I noticed the next turn he got the ball was heaved much lower ).
BJGE looked sharp too , but you can clearly see that he's more Sure N Steady than explosive . Rookie Vareen was a no show ( inj'd ) No Kevin Faulk either ( ? ).
QBs
From what I could tell -Mallette looks like a typical goofy - awkward rookie ...almost hillbilly-esque (Can't even count how many times I saw him fumble around with the ball while playing catch before / during /after practice ...luckily hes not a receiver )When he wasn't being coached up - He stuck by Bradys side and appeared to be absorbing #12's advice. His play looked ok -during drills he hit his reciever more often than not and during semi-live action he stepped up in the pocket under pressure and delivered .For the most part Hoyer looked sharp - he looks like he belongs .Though he's clearly got the weakest arm of the three and tends to float the deep ball , he actually threw the tighest spiral of the pack in the intermediate stuff . Brady looked a bit
off
( I've noticed that at the end of a play when Brady isnt quite happy with the way things just went - he tends to stand perfectly still for an extra beat or two ...he was makin like a statue a lot )
The group as a whole stayed after practice and did extra work - nice commitment.
RECEIVERS
Taylor Price looked professional . Nice to see him
gettin' it
. Branch looked like...eh Branch ( Welker too ) Darnell Jenkins looked a bit sloppy ( catchin and routes ) Edelman seemed to have a bigger presence than last year and also seemed to be very vocal . I think he'll be incorparated much more this year .
Chad Johnson ran hot n cold . A few drops , a few nice catches - nothin spectacular ( tho the crowd overreacted on every touch ) . There were a couple refs monitoring plays and after Bodden D'd #85 up on a very catchable sideline route - Chad got pizzed and appealed to the official to throw a flag ... no big deal but the crowd ate it up and instead of just gettin back into the huddle , he stayed and repeated pleaded his case . I noticed Bodden stood there too and his body launguage was like " C'mon man " ( Later on after the session was over and the O and D squads were going their seperate ways I saw Chad approach Bodden , briefly talk and then shake hands before parting.)
Gronk looked like an unstopable beast ( gave me a scare at one point when he was tackled by an arm grab that made him land awkwardly on his shoulder ) Hernadez looked a bit heavier ( slower ? ) and rookies Lee / Wheaton appeared as advertised - big slow behemoths .
Just like the Qbs , this group also got together after practice for extra reps.
DBs .
McCourty was tight as ever - Butler not so much ( I didnt notice it but my bro said he saw Butler take exception to a clean block and throw an elbow at the plays conclusion ...but thats heresay from a Cowboy fan ...pffft ) What I did see of him was more of the same ol , same ol ...
ALMOST
tight coverage . Whilhite looked active( talky bazztard too ) Sergio Brown looked ready to level guys ( forced to pull up do to practice constraints ) Bodden was in slot a lot with Arrington playing aggresive corner and doing ok . Meriweather looked apathetic ( Disclaimer : Im a devoted Meriweather non-fan and have been since he was drafted ) He just looked like he was going thru the motions ( at one point early on - he even jogged off to the locker room ...took a dump ? ) For what its worth - my unbiased bro thought he looked like the one guy out there that wished he was somewhere else ( From the calistenics onwards he was doggin it )
Belichick never fails to amaze me .
After his initial late showing -He took charge of every aspect of the 3hr practice ( even overseeing the tedium of the end of practice sprints by standing directly in the middle of the field while the dust kicking hoard sprinted by )
The various segments are timed on a big board - but BB will cut things short if he decides its
time to move on
( Once , I happened to look over at him and his body launguage said "I'm bored with this " ...2 secs later he reached for his whistle , gave a loud toot - his "runners " showed up and word was sent out to his assistants that plans had changed and it was time to move on to a new phase )
There's as many as a half a dozen different groupings going on at one time -but BB manages to get around to each individually before the day is thru -usually concentrating on wherever the most
live
action is taking place.
I came away thinking this wasnt the most interesting practice Ive ever been to , but still worth seeing in person .
If you haven't already done so - I strongly recommend makin' the trip before camp winds up next week ( the public part anyways )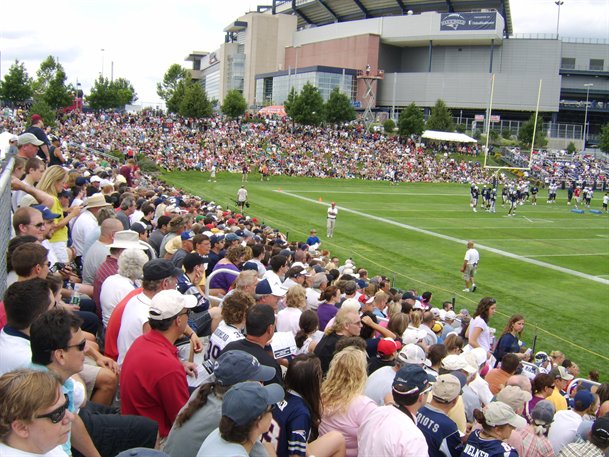 For those who can't attend -This shot gives you an idea of just how packed it gets...note hill behind goalposts where fans are allowed to field fgs .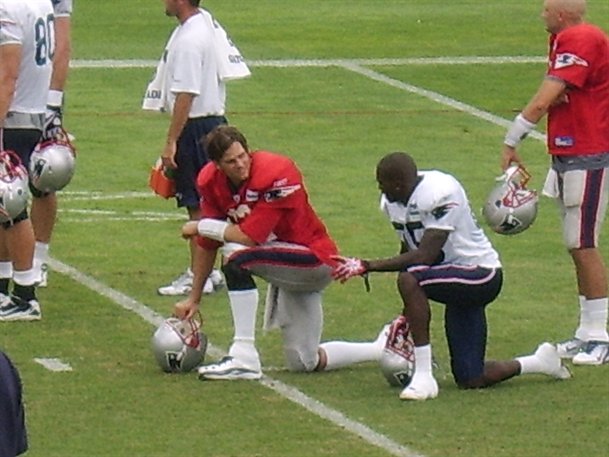 Chad Johnson was constantly picking brains ~ especially #12's .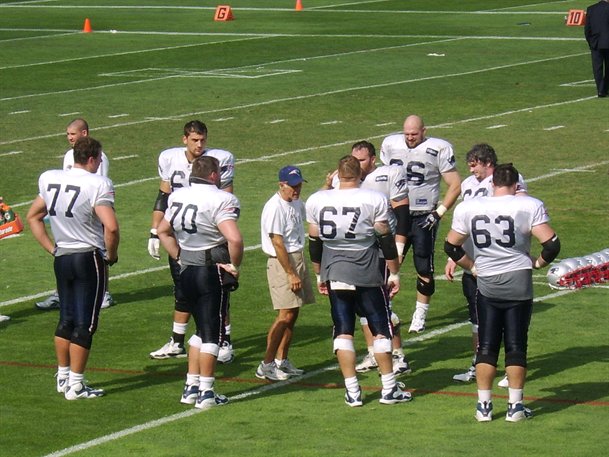 Dante's dominion ... If Solder ( #77 ) ever fills out his frame he's going to be a beast . Volmer ( next to Scarnechia- facing camera ) and Solder should be impressive bookends for years to come .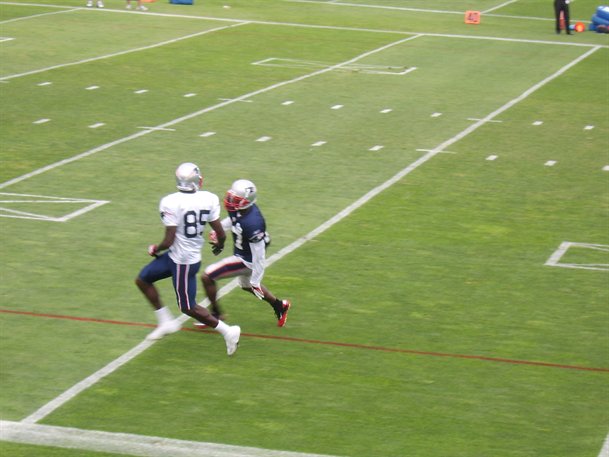 Arrington getting it done. It's going to be interesting to see if the Day 1 starter will be him or Bodden .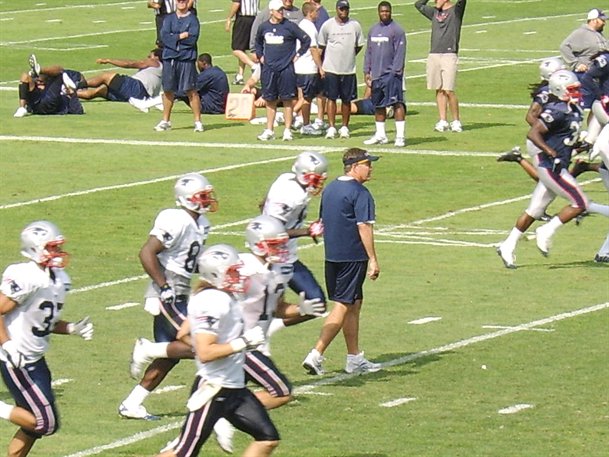 End of Practice sprints and BB still prowlin' .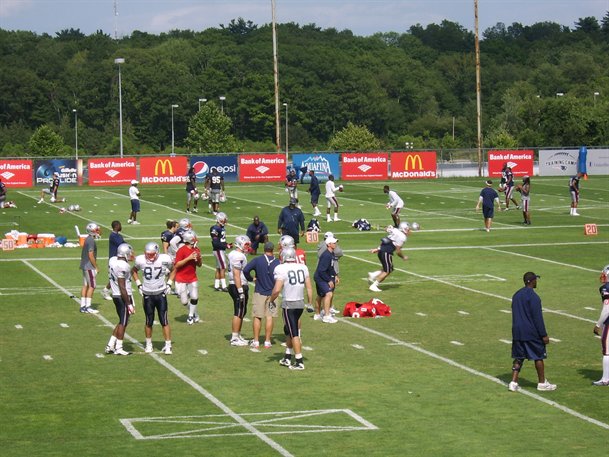 Practice over , Brady ( w/o pads ) leads Qbs and Wrs in extra work
Woodhead is the first to approach stands to sign for fans ...note leg bulk .