I was lucky enough to be able to attend today .

Couple two -three observations :

Replacement Refs workin' the scrimmage were spotty and BB let them know about it on more than a few occasions....LOUDLY .

Chandler Jones looks physically huge out there , but to be honest I didn't see anything that made me go WOW . His first step is quick ( especially for such a big guy ) but to me , Mark Anderson was noticeably quicker .

Kyle Love continues to improve ( and grow his belly )

Jerome Cunningham looked like... Jerome Cunningham ... unfortunately.
( saw Ron Brace giving him instruction on the sidelines...yah THAT Ron Brace )

Dowling didnt get hurt.

New safety Gregory looked to be in good position all day ( even snagged an INT )

Kyle Arrington put our Cbs penchant for being in position to make plays ( w/o actually makin them ) on display once again....Brees may have had something to do with it ( I heard he's a pretty good )

OFFENSIVELY :

For me , Brandon Lloyd was the most commanding wide-out of the day on both squads & when you factor in the Saints crew - that's saying something
( Saints rookie wr #14
Tanner
looks like he belongs)

Welker looks not only quick - but fast
( easily gained separation on deeper routes )
IMO ... Ladies and gentlemen this guy is worth every penny , hustled on EVERY snap - even when it was a running play the other way.
PRO's PRO .

Not sure if Branch is hurtin' or what but he was invisible ... odd man out ?
( I hope not )

Ebert looked serviceable , reminded me of Edelman when he was a rook .

Gaffney looked like it was 2007 again ... LOOK OUT !

I 'd heard good things about Stalworth but he appeared a step behind the whole day both with his wheels and head.
Brady gave him a few "friendly" chats after a couple in-completions ...not unlike when Chad was here ( ut oh)
Off day or Odd-man out candidate # 2 ?

SLATOR caught his yearly ball .

Rook Rb Brandon Bolden has impressive bulk and looks like he's the real deal.

( Saints Rbs may end being leagues most versatile / best )

Hernandez = BEAST
( I dont play Fantasy Football -but I suggest those that do bypass an early selection of Gronk and take #81 mid round )
AH made a circus catch on 1 on 1 's that's one of the best catches I've ever seen.
It was a 60 yard bomb down the left side that he hauled in with his outstretched left hand under tight coverage ( when Brady initially launched - it appeared that there was no way AH would even get a hand on it )
MOSS-Esque !

WAYYY to much Bon Jovi blarin' on the loudspeakers to start practice ( remarked to my bro it was the worst thing about playing for BB )
Later on Ms. Jersey showed up preenin' on the sideline ... he better be reincarnated as a frigginnn' monkey anuss in his next life or there's no God .

IMO , despite the dire reports of the Pats O suckin' ...

I honestly saw this scrimmage in a mostly positive light .


HERES A FEW PIX I TOOK :

( NOTE : BDC badly clips em after download -so some are oddly cropped )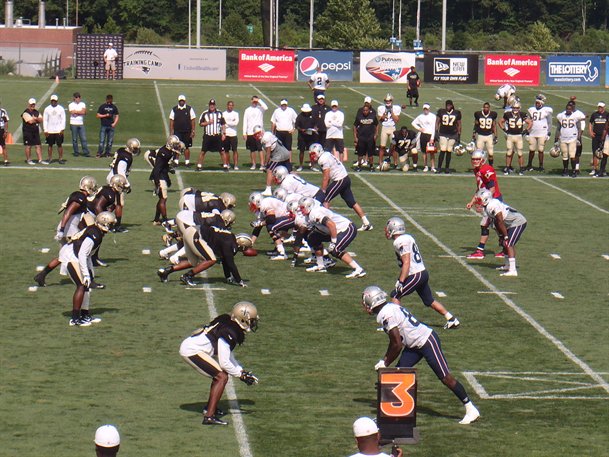 Pats starting receiving corp. ... Impressive.
Bon Jovi (sideline-white shirt /jeans) + hunky boyfriend = Super Impressive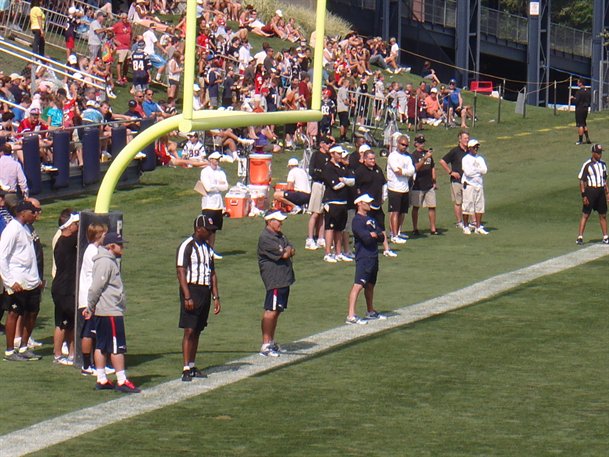 Belichick ...not a big zebra fan .
Note : BB's kids to left and Cesario to right
(All of which gave BB a wide birth when he got the ref up to speed on the NFL rulebook )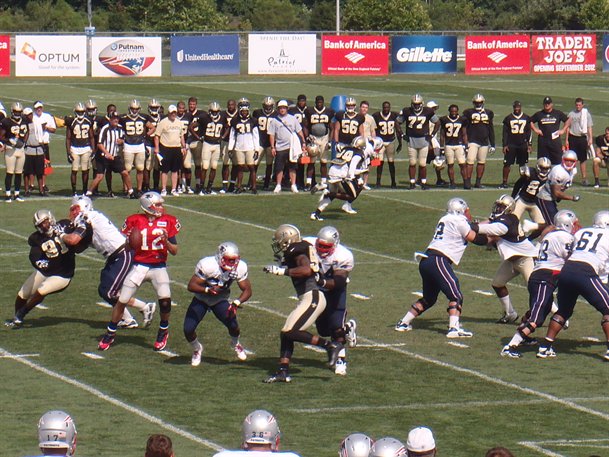 Qb in the pocket
( 6th rounder who's name escapes me )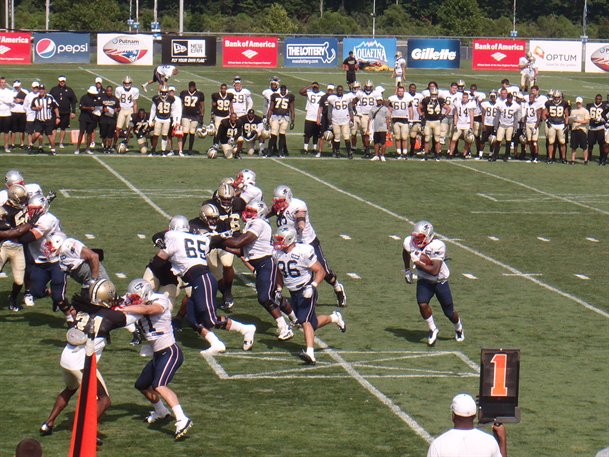 Brandon Bolden follows Kettani thru a hole created by Nick McDonald and Edelman.
Kyle Love occupying space
While a SD cast-off Qb surveys the field .