NOTE : Scroll down to bottom part of the page 1 Comments Section to view a more pics I just added ( Thurs )


So the Saints came marching in...

I was lucky enough to be in attendance for both the morning & afternoon scrimmages yesterday .
One of the things I took away that left me optimistic for the upcoming season was how well both Hernandez and Tate looked . Both displayed crisp route running, fly paper hands , and explosive acceleration after the catch .

Another huge plus was how fluid Wes Welker looked with one play in particular standing out . Welker made a short in-move about five yards over the middle where Brady hit him in stride . After hauling in the short , sharp pass he then realized his current path would take him right into the teeth of the D , so he stopped on a dime using his offhand against the turf to steady himself , changed directions and headed perpendicular to the line before picking up a block and turning it up field .
VINTAGE #83 !

As for the D backs non stellar play , I have 3 words :
SAINTS PASSING GAME
I think it's important to remember that we are talking about the NFL's premier passing attack
( If this was the Bills shredding us I'd be worried )

Overall , I thought we faired well in the heat and humidity .

Notable exceptions were :
Mesko ~ 2 words that come to mind to describe his day ... God Awful .
Even in warm up his boots just looked weak and wobbly. You could tell by his body launguage that he just didn't have a clue as to why . I'm used to seeing punters get that nice tight spiral every now and again when they're in their pre-game practicing mode , but I didn't see a single kick that even remotely resembled one. He did however get one nice boomer off (but still wobbly ) My guess is it must have travelled at least 65 yards on the fly.
If he continues to struggle , I wouldn't be shocked to see somebody brought in to give him some camp competition .
5th round guys drafted for special team play are suppose to be... special .

Butler ~ Close only counts in horseshoes and darts ...during most of the day the 2nd year corner seemed to hang right with his man but somehow the ball kept finding his opponents hands ( chalk some of this up to the Saints #9 ) The wirey Butler does look the part of a Db with his long arms and tight frame , and his mechanics all seem to be there , but whenever a play on the ball seemed within his grasp , he just didn't get it done. My guess is this was just one of those days where he needed to be 100% on his game and just wasn't .
Personally , I think he's going to be fine.

Two additional side notes :

1) As reported , Brady did seem a bit p'd off from time to time with himself and /or recievers execution
( At one point he screamed in the loudest voice I'd heard by anyone all day "Get the FOCK in the huddle " after his offensive mates took their sweet time forming the circle )
but it seemed to always be followed up by an attempt to remedy the issue ~ at times taking Tate or BJ Green-Ellis aside and working things out .
( I also noticed the Saints Jonathon Vilma drop an F- Bomb or two on the other side of the ball whenever his troops needed a reality check. )
To me Bradys outbursts showed his passion for "gettin it right "
( Not unlike that guy that wears #18 for that midwest team we all love to hate )

2) The "alleged" 1/2 lb. burger at the CBS Zone was a joke.
The thing was mostly bun and condiments .
( The beer selection however was top rate and the view overlooking the stadium is one of the best sports watering hole locations I've ever seen )
Next time, I'll eat at the 5 guys burger joint and save the CBS Zone for my beverage consumption .

Here are some pics I took of the scrimmages
(non-award winning )

They're mostly of the views you get when visiting camp.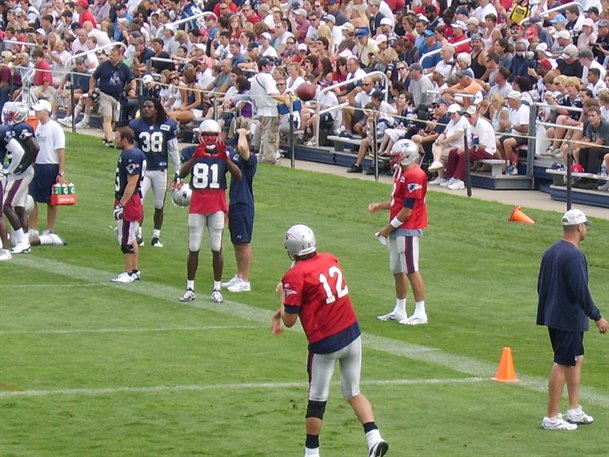 Brady warms up with Moss on the sideline prior to the O getting their scrimmage reps.
( I've noticed that Brady always seems to only warm up with Moss ... this goes on thru-out the entire practice session too ...prior to stretching , in-between drills , etc. )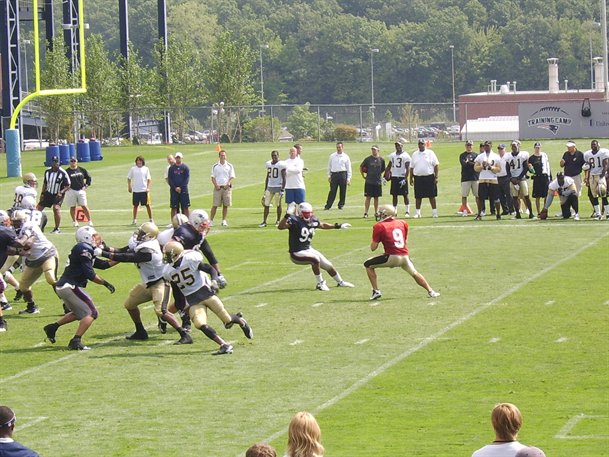 Brees steps up in the pocket while Reggie Bush pretends he's worth 8 mil a year.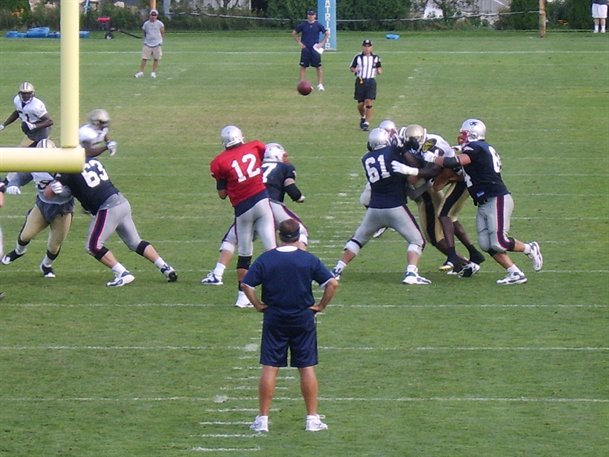 Brady hits Welker ( unseen ) over the middle , while Belichick prowls the offensive backfield .
( I noticed that BB rarely gave instruction while the series of plays were in progress , instead waiting until the units' full turn was up before offeing advice ~ my guess is he wanted it to be as much like an in-game situation as possible )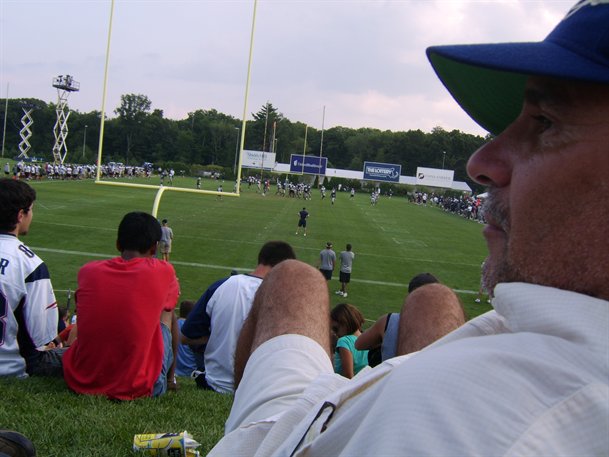 Fans view from the hill behind the endzone .
A funny as h*ll heckler was to my immediate left ~ He layed into Marquis Murrell about taking a knee during a drill.
BOOMING VOICE : "Are U tired #93 ? ... Hey #93 , u need a Chair ? ...Would U like to take a Nap #93 ? ...Would U like a freeze pop ? " He kept it up for at least 3 mins then mercifully Pepper Johnson blew his whistle and they changed stations ~ Later on after Pats very last scrimmage play , Gostkowski 's FG flew into the crowd and into the waiting arms of ...the heckler .

After practice we learned that Murrel wasn't just doggin' it , he was actually carted off due to heat exhaustion.

DOH !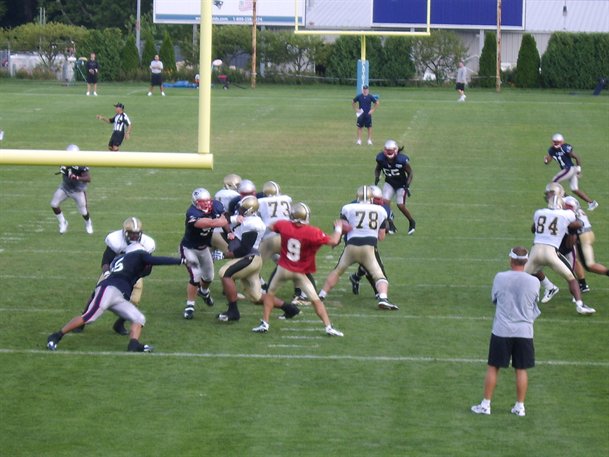 Brees throws an out while the trenches battle it out.
( End zone hill perspective )
Note Spikes in the middle ~ He's for real and looked like he belongs out there !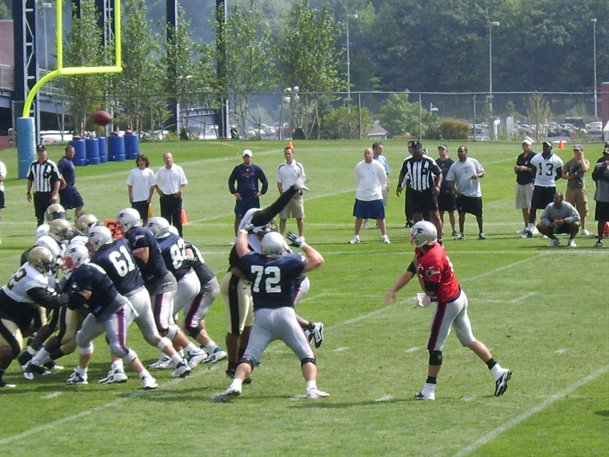 Light protects Brady during Red Zone work .
( Despite what some people might think , he does on occasion get his man )

I came away from these scrimmages encouraged that even if our D takes awhile to come around , the Offence will be more than up to the challenge of winning shootouts .