Call me an optimist...but if the Patriots remain reasonably healthy this season, I see no reason why they can't repeat last year's 14-2 record.
Here are ten (10) predictions from Mike Reiss, with my comments interlaced therein, in bold black:
Ten predictions for the 2011 New England Patriots season to file away and laugh at come early January:
1. The Patriots will win 12 games. With a revamped defense and multifaceted offense, the Patriots are positioned among the NFL's elite once again. They know they can't count on the defense to force 38 turnovers again, but with a pressure-oriented approach, they should dictate play on a more regular basis and generate more pressure. Quarterback Tom Bradywon't win the MVP award, but he'll turn in another solid season.
RESPONSE: The Pats forced 28 turnovers last season, not 38. If Tom Brady stays healthy, I see no reason why the Pats can't win more than 12 games, particularly if some of the other predictions made by Mike below come true.

2. Seven sacks for Albert Haynesworth.The way the Patriots plan to rotate defensive linemen this season, Haynesworth might not even play 50 percent of the snaps. The approach could be perfect for him, keeping him fresh and allowing him to turn it on when he is on the field. Haynesworth's career high for sacks was 8.5 in 2008 when he was playing for the Tennessee Titans, and playing for a contract.
RESPONSE: I agree that Haynesworth will be an excellent addition to the "D". But, 7 sacks? If he does that, I'll be doing back-flips, and the Pats will win more than 12 games.
3. Fifty catches for Chad Ochocinco.Over his 10-year career, Ochocinco has averaged 75 receptions per season. He won't hit that mark because of a combination of factors -- learning the offense, struggles to separate from defensive backs and the Patriots' style to spread the ball around. A 50-catch season would be his lowest total since his 28 in his rookie campaign
RESPONSE: At age 33, Ocho's skills appear to be vastly diminished. A 50 catch year from him won't help the team improve. If he doesn't start contributing by game two, he may be released.
4. Contract extension for Jerod Mayo.The fourth-year linebacker, whose deal extends through the 2012 season, will ink a long-term contract sometime before the end of the team's off week in late October. Mayo is primed to build on his first Pro Bowl berth and become one of the game's stars at the position, and he's everything Bill Belichick wants his players to be. The Patriots have the maneuverability to make it happen now, so why wait?
RESPONSE: Agreed. It makes no sense to let contract issues with him linger.

5. Randy Moss will not play for the team.While Moss almost surely would come out of retirement if the Patriots called him, it would take an unexpected run of injuries for such a scenario to be considered. And even then, Belichick would hesitate, in part because of the off-field volatility that would come with such a move. The closest Moss gets to the field this season is as a spectator.RESPONSE: Much depends on how Deion Branch and Ochocincho perform.
[+] Enlarge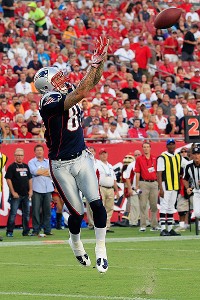 AP Photo/Chris O'MearaAaron Hernandez is on his way to becoming one of Tom Brady's favorite targets.
6. Eighty catches for Aaron Hernandez. If he stays healthy, the second-year tight end is in position to have a monster season. His presence in the 2-minute offense, plus regular packages, means he should be on the field for most of the offensive snaps. Outside of Wes Welker, who said he is in the best condition of his career, he is on the verge of becoming Brady's favorite target.
RESPONSE: Agreed.If he stays healthy, I'm expecting big things from Hernandez.
7. Splitting with the Jets. In the much anticipated rivalry between the Patriots and New York Jets, each team will hold its ground at home -- the Patriots winning in Week 5 and the Jets evening the score in Week 10. In a side note, Welker will pass on speaking with the media in the week leading up to a game.
RESPONSE: I see the Patriots as the better team. If they beat the Jets in week 5, I expect them to sweep.
8. Julian Edelman -- 2 punt returns for touchdowns.
If he stays healthy, the third-year receiver will be recognized as one of the league's more dangerous returners on both kickoffs and punts. Just a hunch that he'll take two back to the house. Edelman is dangerous with the ball in his hands and will be an upgrade over
Brandon Tate
, who declined rapidly from the midpoint of the 2010 season.
RESPONSE: Agreed. Edelman is an excellent punt returner. But, I'd like to see him contribute a little more as a receiver.
9. Lonie Paxton again won't be forgotten. Three years later, the Patriots still haven't decisively filled the void created when Paxton, the reliable long snapper, signed with the Broncos as a free agent. Snappers aren't talked about unless they cost their team points (or a game), and the Patriots enter the season with rookie free agent Danny Aiken, who spent training camp with the Bills. It's risky.
RESPONSE: I disagree. No way that BB would allow this sort of problem. He must have full confidence that Aiken can do the job.
10. Playoff questions will be answered. After losing their first playoff game in each of the past two seasons, the Patriots can't answer one of their biggest questions until January. Their new look on defense, coupled with better offensive line play, should help them get over the playoff hump. This team will be in the mix to win a Super Bowl ring in Indianapolis
RESPONSE: Agreed. But, for this to happen, the Pats must win their division. I expect the Jets to be their main competition this season. If they win the AFC East, they'll earn a bye week, and will break their playoff losing streak. I'll go a step further...if Brady stays healthy, Haynesworth helps, Hernandez has a big year, and the Pats can get 60 or more catches from either Deion Branch or Ochocincho, the Pats will win the AFC championship...and advance to Indy. Surprised that Reiss didn't comment about the Pats' rushing attack. I'm excited about the Patriots' stable of RBs. But, their secondary and OL must pull their weight.

http://espn.go.com/boston/nfl/story/_/id/6938508/ten-predictions-new-england-patriots-season