Bedard laid out a similar column on Sunday and here's an out of market analysis on how NE takes on FA in conjunction with the draft. I underlined a few statements that are absolutely on point.
Patriots prefer contrarian approach
When it comes to free agency, New England not afraid to break the mold
Originally Published:
March 20, 2012
By
Ross Tucker
| ESPN.com
Although most of the focus during the initial free-agent frenzy is on the big names and the gigantic contracts that they sign, the New England Patriots managed to stay way under the radar. They made a number of value signings that they believe will upgrade their roster for 2012.
Most teams make a run at some of the elite players available, such as Mario Williams, Peyton Manning or Vincent Jackson, or sit out the first week entirely until the prices supposedly come down and they can value shop later on in free agency.
Not the Pats. They went after some of those so-called second-tier and second-week players right from the start, a strategy that I think is brilliant. Who says just because a player isn't a marquee name or won't command more than $10 million in guarantees that you have to wait until the second week of free agency to pursue him? Nobody.
Almost immediately, New England went after and signed free agents it had targeted, such as defensive lineman Jonathan Fanene, safety Steve Gregory, pass-rusher Trevor Scott, wide receivers Anthony Gonzalez and Brandon Lloyd, and offensive lineman Robert Gallery. The Pats went immediately to the bargain aisle while most of the other teams were fighting over the fancy new releases for the upcoming fall season.
[+] Enlarge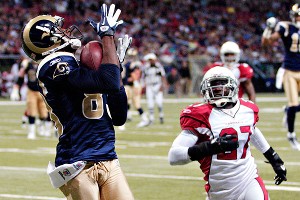 AP Photo/Tom GannamThe Patriots didn't spend wildly, but they got a quality receiver in Brandon Lloyd.
Why is it such a smart move? Because the Patriots understand the inherent insecurity of NFL players who are not among the elite. They know that players like Fanene, Gregory and Scott are nervous about the amount of interest they will generate on the open market and are keenly aware of their mortality as football players.
Fact is, there is another side of free agency that many people never even think about. The 200 or so players who simply never get signed by a team again. Their contracts for last season expired, and they will never even get another opportunity because there aren't any teams with a desire to sign them. Happens all the time. They don't retire. They are retired. Their roster spots are filled by some of the close to 300 players who will be selected in April's draft and thus their careers end without being released or suffering an injury.
That's not to say Gregory and the rest of the Patriots' signings were in that category. Clearly, they were not. But they are the type of players who were probably a little worried about what the level of interest would be in them. The unknown is a very scary thing for NFL players who aren't under contract, and the thought had to cross their minds at some point that they might be staring a minimum contract offer in the face at some point in March.
Fortunately for them, the Patriots came calling early. My guess is the players were flattered by that, and when the Patriots made an offer, they jumped at it rather than waiting to see whether a better one might come along.
Now, is it a fair critique that the Patriots didn't sign many (any?) difference-makers who could put them over the top and that they would be better served by going after a more high-profile free agent? Perhaps, and I can certainly understand fans who would feel that way. But if you have already made the decision that you aren't going to go that route, why wait until the second week of free agency to get the players you are interested in under contract?
You shouldn't, the Pats didn't, and as a result, they got their targeted guys. Now only time will tell the impact those signings will have on the 2012 season.