Hi Name is Brian McDonald, lived in Boston for most my life but have since moved south to TN... I am new to the forums and would like some of the "Vetz" to help me understand our defensive schemes.
I know we switched to the 4-3 and I have no problem with that, but what I am tired of hearing is the constant complaint that we "need good Corners!!". That is a complaint I hear from every fan(that I know).
Ever since we lost Crennel we have not been a top tier defense, I am worried with the current lack of faith Bill might have in our corners. These corners have 45 Career INT's, and are not just patches. I think our defense has improved leaps and bounds year-over-year.
+ We got quicker, younger and really recieved a upgrade on the outside's
But just something I have noticed over the last 3 years, is our lack of pressure on our opposing reciever's outside.
Watching where the ball is getting thrown against us, I can't help but feel we are playing Base 4-3 Cover 2. Which is fine with me, but why must we not bump at the line? If we are not going to bring a rush(besides the front 4) why not try to give our second line of defense a chance to get off their back pedals and pick up the route?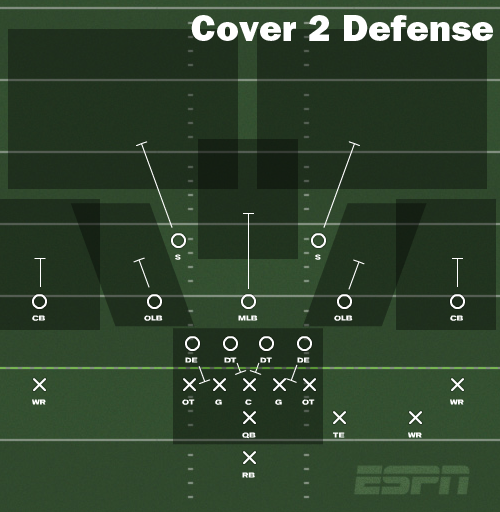 As you can see, this is what I feel we are currently running.
This ensures that the only big play oppurtunity we face is the middle of the field. Which is where the one BIG play we had against us came from.
Here is a rough sketch of what I think is happening: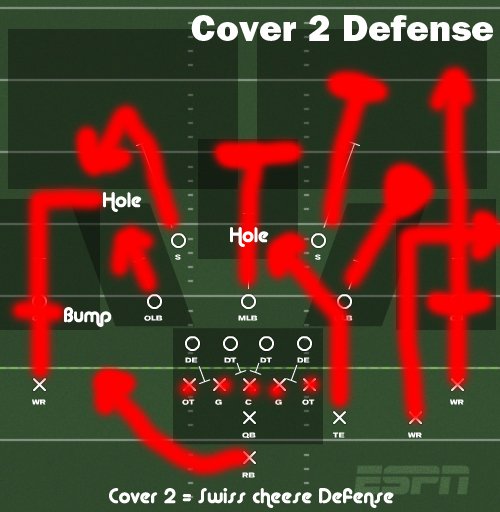 (excuse my doodle skills, I'm trying to give you something to look at)
Here is what has happened over and over.
Left side of field:
WR#1
runs a in route, I seen many times that we did "bump" on the left but what has happened worries me.
I will explain:Option 1:
Offense runs a nice little in route with
WR1
, With a under route from the
RB
.
The saftey
back pedals to his zone
, and our
CB1 bumps WR1
. Our
OLB drops into coverage
, and our
CB 1 is forces to "release" WR 1 back to his route
. He does this to
pick up the running back coming out of the back field
.
This causes a
"Hole" on the left side
, Since the
Saftey is already predicting deep
when the WR1 breaks towards the middle of the field
. So our saftey breaks off his coverage and tries to play
"catch-up"
.
So
the result is a 10 or so yard post pattern completion
, where it essentially looks like
"three Patriot defenders are just "standing around".

This one option has caused concern, as teams have used this as a
"bail-out-plan"
when facing
2nd&long or 3rd&long
. This
can NOT be blamed
on our secondary, they are simply doing what has been drilled into thier head since PEE-WEE Football.
Alright, stay with me.Option 2:
What a LOT of teams do is run say TE or S-WR depending on formation offense is running, (on doodle) to the middle of the field and run WR1 through the middle. IE our big play we gave up that led to the only touchdown.
Now our right side has problems also, and it is strictly the coverage. if they LOAD the right side with options, or run a back to the flats, we OFTEN get beat down the field as our Saftey and OLB have to drop into coverage(based on their zone assignments).
My overall concern is the fact that we can't get off the field when we need to. And I think this is why, We go almost into what can be compared to "Prevent defense". Our goal seems to be to play "don't give up anything over the top", and give them room under.
Please give me some feedback, as I think this is a scheme/defensive call problem more than it is talent on this team....
BTW if we run this against the Dolphins' Wildcat we have no shot, as it "softens" our run defense also.
There seems to be a better way of defending, we can stick with zone over the top and play MAN on the outside! These corner's can make the big play we will need to get off the field... They just can't be blamed when put into a situation where they HAVE TO follow Coach's order.
I still love Bill, I'm not a Bill "hater" I just am realizing that our Defensive Mastermind might not be one. I think he is a stellar personnel Coach, and know's what kind of player is needed in his system. But I think the defensive scheme is "defunked".
Thanks if you read all this,
Brian McDonald