The 1958 musical was more exciting than this NY team. It was difficult but I rooted for them in the past 2 games. I never believed we'd have an easier time beating the Yankees than the Rays or Orioles.
Today they lose 1-0 and get 2 hits and the pitcher was not Moore or Price & not yesterday either when they won.
Why did we let Loney go...was it because we got Napoli ? He went 2-5 yesterday with a HR and 4 RBIs and today got 2 hits.
He is the only starting player with an average over 300.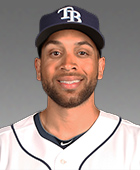 2013 Season
AVG .317 HR 10 RBI 50 RUNS 41
Monday morning quarterback perhaps but I wish we had him and he was cheap too. Tampa Bay pitching is awesome and I suspect Price will pitch Monday's game. Too bad it got rained out the other day.
Well, trying to be positive, at least we can beat the Yankees !