By Jayson Stark
ESPN.com
A week or so ago, when Ubaldo Jimenez's name first popped out there in the Rumor-verse, it felt like a trial dirigible -- the kind of name a team floats into the ozone just to see what happens.
Not anymore.
On Tuesday afternoon, we heard an official for a contending team utter these momentous words about the Great Ubaldo:
"My guess is, they move him."
That's because the Ubaldo talk these days is no idle chatter. The Rockies are "really engaged," said one AL executive. And multiple teams echo those sentiments.
The Reds are in. The Yankees and Red Sox are in. The Rangers, Tigers and Blue Jays are on this trail. An executive of one club involved in these talks says he was told that two National League teams, yet to be identified, are working on this deal, as well. Other clubs are conjecturing that one of them almost certainly is Washington.
So that tells us six to eight teams are actively talking to the Rockies, with four days left until the trading deadline. If you think they're all just checking in to get some tips on the best ski lodges in Aspen, better think again.
"You don't do this with your best pitcher," said the official quoted at the top of this column, "unless you're ready to trade him."
If indeed the Rockies really are ready to trade this guy, you have to understand what this means.
It means, for one thing, that it's time to boot Carlos Beltran out of the top spot in the Rumor Central power rankings. Here's why:
Beltran is a difference-maker, but he's also a two-month rent-a-bat with a bad knee who won't even get his new team a draft pick when he bolts this winter.
[+] Enlarge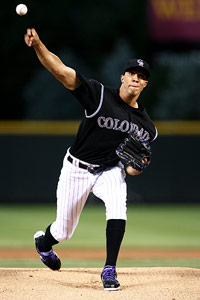 Russell Lansford/Icon SMIIn his past 35 starts, Ubaldo Jimenez is 10-16 with a 4.03 ERA and 217 strikeouts in 216.2 innings.
Jimenez, on the other hand, is a 27-year-old smokeballer who won 19 games last year, throws 96 mph, has a 3.03 ERA (and 71 K's in 71 1/3 innings) since June 1, and is under contract for a mere $9.95 million total over the next two seasons. And guys who fit that profile NEVER get traded away at the trading deadline.
"Of all the players out there, or potentially out there, he has the most value," said an official of one team in this derby. "Because he's a starting pitcher. Because of his age. Because of his contract. So if they trade him, they should bet a bigger return than any other guy on the market."
By remarkable coincidence, that's a sentiment the Rockies happen to agree with wholeheartedly. So the Neiman Marcus price tag they've attached to Jimenez hasn't shown any signs of slipping.
That price is still, in the words of one club, "three or four really good young players." And one of them has to be a high-end pitcher who can be plugged into the Rockies' rotation by the middle of next season.
So for the Yankees, that would mean Ivan Nova -- plus two or three jewels from their system. For the Reds, it would mean Homer Bailey or Travis Wood -- plus the cream of that prospect pool (though one source adamantly denied reports that either Aroldis Chapman or catching stud Devin Mesoraco would be part of this package). For Detroit, it would mean the conversation would have to start with Max Scherzer or Rick Porcello (whom the Tigers have refused to discuss). And, well, you get the idea.
Are the Rockies going to get what they want? Our first inclination is to be skeptical. But remember, the Rockies look at this as the kind of shopping opportunity that doesn't come along every July. So what they've told all the teams they've talked to is: "If we get our price, he's yours. And if not, we'll keep him. Period."
So where is Ubaldo going? The Yankees were described, by one source who spoke with them, as having "strong interest," even though they've downplayed that interest for the most part. The Red Sox have stayed involved from the beginning, and Rockies scouts were spotted all over their system over the last few days.
But an official of one other club believes "the team [the Rockies] really want to do this deal with is Cincinnati, because they've got the young starting pitching to give back. So I think that's where this is going."
Other clubs report they expect these conversations to last into the weekend, and possibly right up until the deadline. If you'd asked us a week ago, or even 48 hours ago, if we thought this would ever get this far, we'd have said, "No way." But, as we said, not anymore.
"He's definitely out there," one exec said. "This is no smokescreen. This is legit."