1.) Note to Theo: Let's see. Adrian Gonzalez has played all but one game and looks fresh and alive. The entire pitching staff seems to be on and off the DL. Could the pitchers please work out with Mr. Gonzalez this off-season? Reduce the injuries, restore our faith in the pitching staff, etc.? Thanks.
2.) So now the 2011 World Series is going to be played with four games in the NL park, which means the AL champ (TBD) will have to play without a DH. This issue has now progressed beyond a point of discussion for the sake of purists. It's just fair play. (Well, not just now - it has been for awhile.) The DH should be embraced universally or rejected universally. Bud? Can you hear me?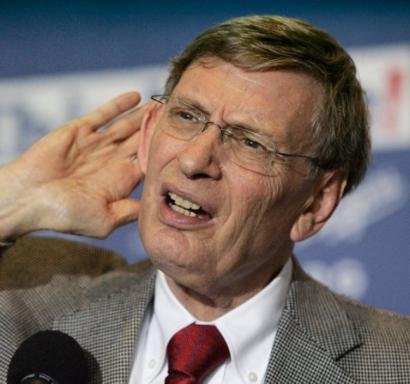 3.) In Shaughnessy's column today: "(Commissioner Bud Selig) said baseball embraces the designated hitter and is unlikely to change the NL and AL's separate rules. Selig admitted, "I'm the only one left in the American League - in December of '72, I voted for the DH, which is shocking because I never voted for anything that Charlie Finley wanted.''
And maybe voting against Finley was just a good idea in general, Bud. It prevented you from voting for ideas. Finley only cared about himself and his attendance figures. The rest of baseball could take a long walk off a short pier.
The DH rule combinded with the All-Star Game determining home field for the WS are two bad ideas that do NOT produce a good idea.
Sorry, Bud. You. Are. A. Moron!
Proof once again that this is Bud Selig's Bizarro Baseball Universe, and we are just visitors.
3.) Waiting for play to resume on Friday.