Sept. 13
Flights resume.
Sept. 15
Logan Airport reopens. | Story |
Sept. 27
Bush authorizes $500 million to improve security.
Sept. 29
Logan terminal partially cleared after guard leaves post to "stretch his legs." | Story |
Oct. 3
Acting Gov. Jane Swift names John DiFava head of Logan security. | Story |
Oct. 4
Washington's Reagan National is last US airport to reopen.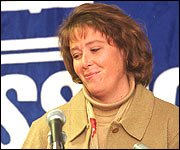 Oct. 25
Massport executive director Virginia Buckingham resigns. | Story |
Nov. 13
Terminal door at Logan left unguarded.
Nov. 15
DiFava suspends Argenbright Security's license to operate at Logan.
Nov. 16
Judge issues injunction, returns Argenbright's license.
Nov. 19
Bush signs Aviation and Transportation Security Act.
Nov. 30
State police make a deal to remove Argenbright from Logan by mid-December.
Jan. 11
FAA releases standards for new cockpit doors.
Jan. 14
Terminal B garage at Logan reopens.
Jan. 18
Federal deadline for airlines to screen all baggage.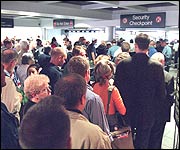 Feb. 10
Logan terminal cleared after man walks away from a security officer trying to check him with a metal-detecting wand.
Feb. 17
Federal takeover of security checkpoints at 429 airports. | Story |
Feb. 25
More than 1,200 at Logan evacuated after metal detectors accidentally unplugged.
March 17
A man whose ID doesn't match his ticket passes through two Logan checkpoints and boards a plane.
March 20
Unplugged metal detector at Logan prompts evacuation of 750 passengers.
March 26
Logan terminal evacuated after metal detector is unplugged.
April 3
Swift files legislation to create buffer zone around Logan and revamp Massport board.
April 30
Baltimore-Washington International gets first federal screeners.
May 10
US airports formalize plans to replace National Guard with law-enforcement at checkpoints.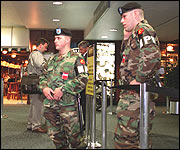 May 31
National Guard troops no longer stationed at Logan.
July 10
House votes to allow pilots to carry guns.
July 18
Head of Transportation Security Administration resigns under pressure.
Aug. 6
First federal security workers stationed at Logan's United checkpoint.
Labor Day weekend
Newspaper reporters carry banned items past security at 11 airports, including Logan.
Sept. 5
Senate votes to allow pilots to carry guns. Bill differs from House version.